Defections from Magic start chain reaction as the player merry-go-round gains speed.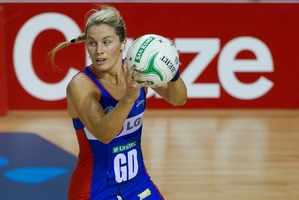 The defection of Magic stars Laura Langman and Irene van Dyk has set in motion an intriguing player merry-go-round in the transtasman league.
After weeks of rumours of a player walkout brewing at the Magic, it was confirmed at the weekend that Langman had signed with the Northern Mystics, while van Dyk is to link up with the Central Pulse.
Having lost two of their "big four", the Magic are now scrambling to keep star defensive duo Casey Kopua and Leana de Bruin from following their Silver Ferns teammates out the door.
With some of New Zealand's most valuable netball commodities on the market for the first time in over six seasons, it has left several imports shopping around for new franchises.
The arrival of Langman at the Mystics casts doubt on whether the Auckland side will have enough room in their budget for Australian international Julie Corletto. The star defender crossed the Tasman this year, joining her husband, Daryl, a shooting guard for the NZ Breakers.
He still has another year to run on his contract with the Breakers and Corletto is said to be keen to remain in Auckland.
But the Mystics, who are searching for a naming rights sponsor after their five-year partnership with LG ended this season, need to weigh up whether they can afford the athletic defender, who has ongoing injury concerns.
Mystics coach Debbie Fuller believes that in Langman they have secured the key piece of the puzzle that was missing this year. Having also re-signed captain Maria Tutaia, Anna Harrison and Kayla Cullen for the 2014 season, the Mystics have a strong core to build the team around.
"Now that we've got Laura we're reassessing whether that import spot should be utilised. It's good to know with Anna, Kayla, Maria and now Laura we've got a lot of strength there and now we need to look where our priorities lie," she said.
Confident in the development of some of their young defensive talent, the Auckland side are likely to first look at shoring up their attacking end, with Silver Ferns Cathrine Latu and Grace Rasmussen top of their list.
Australian shooter Caitlin Thwaites is also on the lookout for another franchise after van Dyk's move to the Pulse. Thwaites has been linked with the Vixens and the Swifts, but where she winds up may depend on where veteran shooter Catherine Cox decides to go. Cox, who is off-contract with the Fever, has been tipped to follow former coach Julie Fitzgerald to the Magic, but is believed to be more likely to sign with either the Sydney or Melbourne teams. That raises the possibility that Thwaites could be targeted by the Magic.
Former Silver Ferns Liana Leota and Joline Henry are among the invited trialists at Netball New Zealand's selection camp next month.
The national selectors yesterday confirmed the 24 players who have been invited to try for positions in the Silver Ferns and national accelerant squads. Along with the current members of the two squads, seven further players have been invited to try out - Leota, Henry (Pulse), Jane Watson (Tactix), Rachel Rasmussen, Courtney Tairi, Phillipa Finch (Steel), and former Pulse midcourter Katarina Cooper, who sat out the 2013 season with a knee injury.
Leota and Henry will be eyeing a return to the Silver Ferns test side for September's Constellation Cup series against Australia. There will be at least two spots up for grabs in the test 12, with incumbents Harrison (pregnant) and Bailey Mes (knee injury) to miss the international season.
Key points
*Magic scrambling to keep Kopua and de Bruin.
*Some imports shopping around for new franchises.
*Corletto's Mystics future in doubt.
*Leota and Henry invited to Silver Ferns trials.