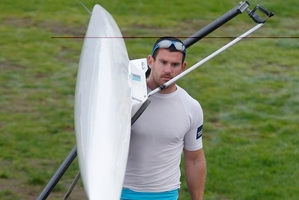 Joseph Sullivan's Olympic gold medal last year probably seems a distant memory right now.
The multiple world champion has ruled himself out of contesting the world championships in South Korea at the end of next month, preferring to knuckle down to regaining his place among the country's best scullers next year.
It's been a depressing season for the 26-year-old, who has won a world or Olympic title every year from 2007 to last year.
He was controversially omitted from the elite squad for the opening World Cup in Sydney in March on fitness grounds, then competed unsuccessfully in the vacant single scull seat at the Eton and Lucerne legs of the circuit.
"Taking two months off gives me a fresh start for the 2014 season," he said. "My ultimate goal is being at the Olympics in Rio."
Sullivan has admitted he didn't enjoy the solo seat experience, but the problem for now is that the double scull combination of Michael Arms and Robbie Manson have taken up the challenge of filling Sullivan and Nathan Cohen's golden shoes admirably. They won all three World Cups this season and Cohen is in a promising quad so Sullivan faces a challenge during the summer training period, which starts on September 30.
But RNZ high performance boss Alan Cotter stressed yesterday that the summer period was about training a squad of athletes, rather than being crew-based.
"It's about bringing them on technically. Joseph will get an opportunity to work with different people and we'll evaluate through the summer period," Cotter said.
"We know what Joseph's like and where he can be.
"He's a racer, has proved that at junior, under 23 and elite level so once he gets back into it I see no reason why he won't be competitive."
Cotter is confident Sullivan will be in the mix for the Rio Olympics.
"He'll be a force next year. I'm confident he'll be up to speed and competing right through to Rio."
Just where could become the interesting issue.
After all, Arms and Manson have hardly let anyone down as the dominant crew in their field. Still, RNZ's policy is selecting on form.
Produce the numbers over summer and you're in business. Reputations alone don't cut it.
Take Drysdale, five-time world champion and London Olympic gold medallist, who has been out of the boat doing other projects, including climbing Mt Kilimanjaro for charity at the end of last month and a range of multi-sport events.
He produced what Cotter called an encouraging row in Amsterdam this month and must turn in a strong time trial on Friday to take his place for the worlds.
"He knows where he needs to be," Cotter said.
"He's certainly not up to his London pace or fitness but he can still be competitive and with more weeks of training and kilometres on the lake [since Amsterdam] I'm sure he'll be right for Friday."
The other crews are unchanged from the European trip for the worlds, a positive endorsement of some strong results across the crews.
Facing challenges
*London Olympic champion Joseph Sullivan has ruled himself out of the world champs in South Korea next month.
*Rowing New Zealand is confident he will be back on track next season with the Rio Games in 2016 the target.
*RNZ has confirmed the same group, and combinations, of athletes will travel to the worlds, negating the need for planned trials this week.
*Olympic single sculling champion Mahe Drysdale must prove his fitness at a time trial at Lake Karapiro on Friday to take his place in the group.