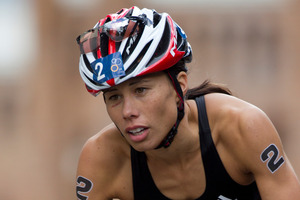 The New Zealand team has claimed silver at the ITU World Mixed Relay Championships in Hamburg this morning.
A strong team effort from Andrea Hewitt, Tony Dodds, Kate McIlroy and Ryan Sissons propelled New Zealand onto the podium behind winners Germany for their best finish in the event. The United States finished in third.
Hot favourites Great Britain, who won the event in 2011 and 2012, held the lead midway through the race before Non Stanford, racing the third leg, crashed out during her bike leg.
Sissons and Germany's Franz Loeschke overtook American Cameron Dye on the run in the final leg but Sissons couldn't quite bring home the gold for New Zealand.
Sissons was thrilled to anchor the team to the line and a medal.
"It is always hard going last, there is a lot of pressure, I was more nervous than yesterday I think. We wanted to be on the podium today and we put ourselves in a great position throughout the race and I was lucky enough to finish it off."
Hewitt said starting off was not too different to a 'normal' race situation.
"It is a lot of fun, the first leg is like an individual race, there was a lot of fighting on the swim. After my first leg it was all down to these guys and they were great."
Wellingtonian McIlroy had a word for family and people back home too, with the overnight shakes occurring pretty much as the team was racing for their silver medal.
"I heard about it on twitter, I know that everyone at home is fine, they are a bit shaken up so it was obviously quite violent, everyone is a little freaked out but they are okay. I certainly hope everyone back home has come through okay and there isn't too much damage."
- APNZ