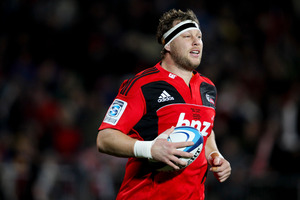 The relentless squeeze started from the man in the No1 Crusaders jersey and carried on through the pack and into their backline.
There was an occasional glitch for Wyatt Crockett when he missed a scrum engagement, but around the field he was enormous. He knocks rivals back with his tackling, cleans out rucks and can run and pass with skills rarely part of a tight forward's portfolio.
The 30-year-old may be coming to the crest of his best form, and with the new scrum laws starting in next month's Rugby Championship, he may become more efficient in the scrums.
Referees will issue "crouch, bind, set" commands and will not allow halfbacks to put the ball in until the scrum is stable, directions which are projected to reduce the impact by 25 per cent and increase the first-time completion rate of scrums.
In the opening Super 15 quarter-final with the Reds, Crockett was penalised several times for folding or slipping his bind in a duel with occasional Wallaby tighthead James Slipper.
Variables like the timing of calls from referee Jaco Peyper, the surface in Christchurch and support from his locks all had an impact on Crockett's and Slipper's production.
All the variables will occupy the analysis of All Black scrum overseer Mike Cron and his cohorts as they look ahead to the start of the championship test series with the Wallabies in Sydney on August 17.
The crush that Crockett and co delivered limited the impact the Reds' playmaking duo of Will Genia and Quade Cooper could make as they were regularly dealing with scrappy ball or slow possession.
They were often in retreat and were forced to kick or work laterally to try and make any headway.
In contrast, Crusaders kingpin Daniel Carter and his cronies had the luxury of quick ball from their hard-working forwards.
Crockett was an impressive component in that work-rate as the pack made an emphatic statement for this week's semifinal.
All eight have worn the All Black jersey, and on this form Corey Flynn and George Whitelock would still be valued selections in this year's group.
Crockett was one of the five props in the opening domestic series against France and was picked to start all three internationals ahead of the vastly more experienced Tony Woodcock.
Like many in the Highlanders' squad, Woodcock's work has been mixed as he dealt with injury and the group's inability to find any great rhythm.
He continues to scrum with great authority but does not have quite the same sting around the field as Crockett brings.