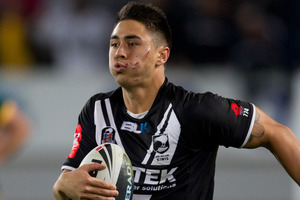 The accolades bestowed on Shaun Johnson after his performance against the Tigers on Friday night are totally justified.
His display not only sent the Tigers into Struggle Street trying to make the playoffs but he claimed the position of New Zealand's best halfback from his hero, Benji Marshall. It is significant that it happened days after Marshall's decision to leave league for a probable move to rugby.
How ironic that this fixture was the stage for Johnson to snatch the title from Marshall's hands. The composed display by Johnson emphasised his development as a genuine playmaker and not just a player who creates for himself.
Friday night's performance by Johnson did not have the elements of sidestep, accelerate and goose step but a spirit of draw, pass and support. This was seen in his first try after a deft pass to send Suaia Matagi away and his support for the return pass to score.
Then, similarly, there was a draw-pass to Sam Rapira who returned the same, then he assessed and kicked for Simon Mannering and the team's final try.
These are elements a playmaker must possess for his team to prosper and Johnson is now starting to understand the full role.
It appeared it was going to be a fairytale final game for Marshall at Leichardt Oval with the initial pass to centre Chris Lawrence, who offloaded to Tim Simona to score. Marshall was thriving off the emotional support from the Tigers fans and lifted for the occasion but unfortunately for him, it didn't last.
The Warriors soon woke from their slumber after the bye weekend and rumbled through their plays with more vitality, allowing Johnson to probe.
I have criticised Marshall's performances in recent seasons, frustrated by his inconsistency. The signs have been around that long. I think Marshall's announcement to seek a release is the culmination of a frustrating period in his career.
Like most sports fans, I admire gifted athletes - Marshall fits into this category.
However, a league playmaker must possess more than freakish talent, and he must produce it more often. This is where Johnson has started to understand his role much earlier than Marshall did. This has been developed under three recent coaches - Ivan Cleary, Brian McClennan and Matt Elliott - and there is more to learn.
Now it's a matter of producing consistent performances that will determine his future and his club's.