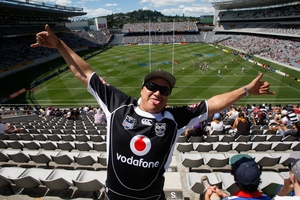 The Warriors are on the move and the shift to Eden Park could come sooner than anticipated.
Mt Smart will be consigned to history as they make the move across town to the traditional home of rugby.
It will be the first - and biggest step - in the Auckland Stadium shuffle over the next few years.
A Herald on Sunday investigation can reveal:
The Warriors are understood to have decided that Eden Park is their long-term home, and may move before their current contract at Mt Smart ends in 2018.
In the first stage, the Warriors are likely to play at least two, and possibly up to three games, at Eden Park next year.
Though they have a Government- guaranteed right to be at Eden Park, Auckland Cricket remain in discussions to switch their base to Western Springs.
The head of the Regional Facilities Auckland admits that development of the No2 ground "provides the key to unlocking the potential of Eden Park and the surrounding area".
Plans have been tabled for a shopping precinct on Eden Park No2 and a multi-storey car park and public transport interchange.
Speedway has been offered a three-year extension to its lease agreement at Western Springs, which is due to expire in June 2014.
There are moves afoot to integrate the management and operation of Auckland's four major stadiums under one central body, which would likely be based at Eden Park and eventually result in forecast savings of up to $2 million per annum.
The Warriors decision hasn't come easy but they are set to depart their spiritual home.
The NRL franchise has concluded that the shift to Eden Park is the only feasible option for future growth.
Mt Smart would remain as a training and administrative base but games would be staged at Eden Park.
It's partly because they can't see a future at Mt Smart and feel their hands are tied; council have only committed to spending $15.25 million at Mt Smart until 2022. That figure, which is spread across the whole arena, barely covers the cost of maintenance and depreciation and leaves almost nothing for development or refurbishment.
"We have had a series of fruitful discussions with the RFA over a long period of time," says Warriors CEO Wayne Scurrah.
"It's a difficult situation for a stadium to survive on just one tenant and that has obvious complications for us. There are certain future realities we have to face."
The Warriors recognise that Mt Smart can generate a special atmosphere, with the crowd close to the action, but there is no desire to remain at a stadium as it gradually falls apart.
It is also believed that the NRL has decreed that any future home playoff games in New Zealand would be held at Eden Park. Historically they have always been held at Mt Smart.
The club also hopes for increased gate revenue from Eden Park. They have drawn over 30,000 to each of their previous three games there. That figure might level out across a season but there is a perception that Eden Park's central location is more accessible to potential fans. Crowds have averaged around 13,000 at Mt Smart this season.
A fly in the ointment is the cost of staging games at Eden Park, which are currently extremely high. There has been a commitment to bring costs down and the council - through the RFA - will take an increasingly greater role in the running of the ground.
"The bottom line is that Eden Park is New Zealand's premier stadium," RFA CEO Robert Domm told the Herald on Sunday.
"People have to stop viewing it as purely a rugby or cricket venue. It is New Zealand's national stadium and it should be run as much. It should be the venue for all major sporting events.
"The RFA position is that the Warriors should play all of their home games at Eden Park and we hope that happens sooner rather than later. We have an agreement with them at Mt Smart until 2018 but if they want to move before then we will obviously negotiate. The ultimate objective will be to see Auckland better off through a rugby league team performing at a higher level and bringing in bigger crowds."
Domm feels that Mt Smart will remain the Warriors' training and administration base, as well as a training facility used by other codes. However the chequebook will remain in the council pocket.
"We will maintain Mt Smart to an acceptable standard over the next few years but you don't want to be spending 60 or 100 million dollars,"