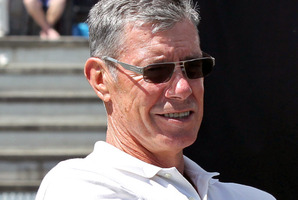 As a purge it might have raised the eyebrows of former Soviet leader Joseph Stalin, master of the genre.
In less than a year, New Zealand Cricket has endured show trials to change its coach, captain, board chairman, selection manager and now director of cricket.
John Buchanan's decision to return to Australia for "family reasons" hardly shocks, even if it rattled the NZC coffers. Buchanan was signed by former chief executive Justin Vaughan until the end of the 2015 World Cup. A buyout of his contract seems likely and, if it was just "family reasons", why did NZC's media release state: "Due to the strict confidential nature of all employment agreements, neither NZC chief executive David White nor John Buchanan is able to comment further on this matter." It hardly screams of a willingness to justify the decision and confront any issues head on.
For argument's sake, would it really be so scandalous to admit the deal with Buchanan simply might not have worked out? Surely the public could accept the humility of NZC acknowledging failure.
Forget the window dressing and efforts to write things which sound like they emerged from George Orwell's Ministry of Truth. Sometimes, plans fail despite best intentions. The working relationships between Buchanan and White (to whom Buchanan reported) and coach Mike Hesson (who reported to Buchanan) appear to have been limited. A tough call had to be made and NZC acted. Hear, hear. Professor Buck was hardly going to be expunged from photos in the almanac, a la Stalin.
The move is an important one in the tenure of White who, once the selection management/cricket director roles have been restructured, will be controlling his own destiny without past baggage from the previous regime.
An ironic solution could be to bring former test opening heroes Bruce Edgar and John Wright back to the fold. Edgar's organisational skills and extensive coaching background in New South Wales could be matched with Wright's selection nous (he has just coached Mumbai to the Indian Premier League title in his first attempt). With Buchanan removed, perhaps a reconciliation could be in order for Wright and NZC but away from the team environment. Just a thought.
Regardless of appointments, Hesson - who now has ultimate control over selection - is the biggest winner.
NZC can take some satisfaction from their overall performance since Ross Taylor was ousted as captain. Strong commercial arrangements like the overseas broadcasting rights deal, guaranteeing an income stream for eight years, are in place. The team has won one-day international series against England and South Africa and gained parity in the home tests against England. Yet a disappointing Champions Trophy and test series losses in England and South Africa proved they are rarely capable of rising beyond the small occasion.
The extent to which Buchanan fulfilled his obligations to establish "clear and consistent national coaching philosophies, implement a talent identification programme and oversee the selection panel" since May 2011 will be moot points.
For all the finger-pointing at Buchanan about perceived 'left-field' thinking, he was always an amicable, logical and passionate interviewee. His catchcry during the Taylor captaincy saga (where he supported the ousted leader) was that NZC needed to embrace the mantra of "integrity, trust, honesty and accountability" to recover from one of the lowest ebbs in its history. It rang true.
The general NZC malaise over December and January raised questions over Buchanan's future despite an impeccable pedigree as Australian coach from 1999-2007, presiding over a record number of consecutive test wins (16) and two World Cup triumphs. He became marginalised and struggled to retain significance.
Buchanan stressed he was "100 per cent" committed to NZC at the time, but frustrated at the speed of change after then almost 20 months leading the high-performance programme.
"I'm happy with the plan we have, but the impact it makes on New Zealand stakeholders can be slow. Humiliating results like those on day one in South Africa [ New Zealand were dismissed for 45] don't help."
He also spoke some fateful words to counter the catalogue of woe in the South African test series: "The cricket World Cup [held in Australasia in early 2015] is the most important thing on the horizon because it's only two years away. To put our best foot forward in an event in our own backyard, we need to place that as a priority above the longer form of the game."
Had pyjamas won the war over whites?
Buchanan's statement reeked of the path of least resistance, an admission of New Zealand's test incompetence. He had marked out the dangerous political territory of disenfranchising the purist.
The 60-year-old's methods were positively received by some in the major associations. His model for success extended beyond the 2015 World Cup and included plenty of consultation. He is believed to have been zealous about its implementation. At one meeting, he apparently asked: "If I don't fight for it, who will?"
The history of that fight now looks set to be purged.