The return of SBW would be bad news for an unsettled Ma'a Nonu.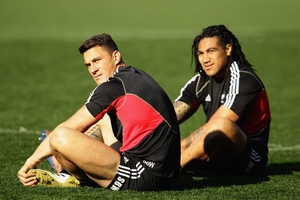 This town might not be big enough for the both of them. Ma'a Nonu's dithering about recommitting to New Zealand could be a direct consequence of Sonny Bill Williams' mooted return to these shores - and to the 15-man code.
Having them both here is dream territory for All Black coach Steve Hansen, but not so for Nonu. His test future will immediately become cloudy if Williams returns - his treasured No12 shirt might no longer be his and he's hardly shied from the fact that the black jersey is the very thing keeping him here.
He's not held here by an unbreakable bond of love for Super Rugby.
If Williams returns, the All Blacks will have the two best second-fives in world rugby. They both have incredible value - Nonu's power, direct-running and physical presence is gold on the battle field.
Williams was developing brilliantly when he left this time last year: just as direct as Nonu, just as strong and just as willing to back himself.
Then there was his off-loading; the little extra that probably made everyone think that if those two were to have a prolonged battle for the jersey, the initials would probably win out in the end.
And that's the thing - up until now, they haven't had to duke it out, not really. Last year, Nonu was rested during the June series after his sabbatical in Japan and Williams left two games into the Rugby Championship. They formed a midfield partnership in those two tests against Australia, Williams at second-five, Nonu at centre to cover for the injured Conrad Smith.
The previous year, Williams wasn't the same player. He wasn't settled at the Crusaders, didn't play well enough to threaten Nonu's test place. The selectors obviously decided early in the year that they would stick with their tried and trusted pairing of Nonu and Smith through to the World Cup. That was partly because it felt like the right thing to do and partly because there was no credible alternative to force them to consider anything else.
In their All Black time together between late 2010 and mid-2012, Nonu and Williams were able to just about happily co-exist. In four of Williams' 19 caps, he started in the midfield alongside Nonu. In another six, Nonu was unavailable, one he started on the wing, seven he came off the bench as he was learning his trade and only once, for the final game of the Grand Slam tour in 2010, was Williams pointedly selected in the side ahead of Nonu.
"The team has been selected on form during the tour," Henry revealed when Williams was named to start. "It was difficult. Ma'a has been one of the backbone members of this side for some time and he hasn't been selected in the XV for this game because Sonny, we think, is just playing a wee bit better right now.
"But what's going to happen in the future is great, great competition between two players."
Nonu didn't take his demotion too well. He rightly felt he'd been one of the few players to hold his form throughout the debacle of 2009, and all through 2010, he was reliable and vital, no more so than when he made the crucial bust in the dying seconds to set up Israel Dagg for the winning try in Soweto.
To be dropped for Williams, who had only three caps at that time, was difficult to accept. If Nonu didn't know it before, he certainly knew it that week in Cardiff, that Williams is a seductive force, the sort of player all coaches will be drawn to feeling he's going to come up with that stroke of brilliance that wins games.
Nonu has no doubt been wary ever since. He knows now that Williams has established his rugby credentials, they can't happily exist in the All Blacks together as they did before. As a combination, they didn't work. Williams isn't really a wing and he's too established, too proven, to gratefully accept a role on the bench on the basis he is the apprentice.
If Williams comes back, these two would be going head-to-head for the starting role and Nonu might not fancy his chances. It's his All Black aspirations that will keep him here - playing at the next World Cup, winning 100 test caps, he must have thought about it.
But what if he commits until 2015 and Williams appears at the Chiefs and makes an irresistible case to win the All Black No 12 shirt?
No wonder he's staying quiet on what he will do next year - especially as the chances of Williams returning are genuinely high. Despite perception, Williams' agent Khoder Nasser is viewed by the New Zealand Rugby Union as one of the most up front in the business.
There is public secrecy but private honesty, which is why the NZRU are hopeful. Nasser is not one to lead them down the garden path.
"Our guys have been talking to Khoder for some time," NZRU chief executive Steve Tew said last week. "As has always been the case with Khoder, it's a very up-front conversation. You know exactly what their intentions are right from the word go and we wouldn't be having those discussions if we didn't think there was a possibility of Sonny Bill coming back and playing."