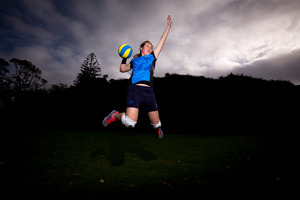 If Francesca Kirwan is unable to follow in her father's footsteps and wear the silver fern, she will certainly settle for representing Italy at the Olympics.
The 19-year-old has been playing professional volleyball in her adopted country since 2011 and, after a summer break spent with father Sir John and family, she will return to Italy next month to take up another contract.
Her hiatus in Auckland hasn't been all holiday, however, with Kirwan using her time to earn selection for the New Zealand senior women's team attending September's Volleyball World Championship qualification tournament in China.
Kirwan's participation will be dependent on club commitments but, if she is unable to attend, the teenager also has her sights set on a greater goal.
"My dream has always been to go to the Olympics with the Italian team,'' she said.
"That's pretty hard now because heaps of girls my age are already in the national team.
"But I'm still trying - I know it could be impossible but I just want to get as high as I can.''
Although the Italian women's team have placed inside the top six at the last three Olympics, those lofty heights are more incentive than deterrent, indicative of a competitive spirit common among the Kirwan clan.
Sir John is, of course, a 63-test All Black, mum Fiorella also played professional volleyball in Italy, while younger brothers Niko (football) and Luka (rugby) are both enjoying their sport at Sacred Heart College.
Given her family's sporting pedigree is matched by an inclination for Italian culture - developed during her father's time coaching the Azzurri - neither Kirwan's chosen vocation nor location comes as a surprise.
"We all love our sports, and it's quite good because we've got three different sports,'' she said. "And we love the Italian lifestyle. Mum's Italian and Dad and the boys all really enjoyed living there.''
Kirwan, then, should be the envy of the family when she travels back to Treviso before joining an as-yet unknown club, but she does have mixed feelings considering what she's leaving behind.
"It's hard because I'm far from the family and I'm very used to living with them. But volleyball isn't professional here, so I just want to get back and keep on getting better and get to higher levels.''
Kirwan believes, with the natural sporting talent this country produces, volleyball could reach such standards in New Zealand if budding players were more aware of the opportunities available.
At the national team trials, she found local athletes with requisite ability but also found a sport desperately short of funding and qualified coaches.
"Me and Mum always say it's such a shame here, because we have so much potential,'' she said. "But it's not professional and everyone who goes to the trial has to pay for it because volleyball's a minor sport.
"There's probably heaps of girls who could play for the national team but they don't because they can't afford the commitment. If there could be the right coaching and money, volleyball could develop in this country.''
The 1.81m Kirwan is hoping to help that development in China, though that aim is contingent on her Italian club granting a release. But if she is prevented from attending the tournament, Kirwan still wants her teammates to spread word of the sport.
"Each girl has to tell her clubmates that there is a national team and everyone should aim for something. A lot of girls who play volleyball don't see a future in it, so that's what all the girls are trying to get out there.''
- APNZ