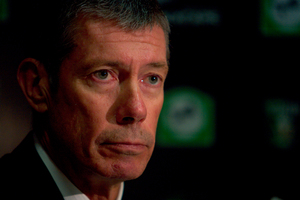 John Buchanan's difficult tenure as director of cricket is over.
New Zealand Cricket today announced the former Australia coach will leave their employ today after two years.
Buchanan said he is leaving for family reasons. He will return to Australia.
Although couched in diplomatic terms, the Herald understands his continued employment became untenable on the recent tour of England, where he made no contact with coach Mike Hesson.
Buchanan instead is said to have met with assistant coach Shane Bond and Ross Taylor.
The Queenslander was a vocal supporter of Taylor during the great captaincy debacle of 2012 and his actions in England were seen as a pointed snub.
Buchanan was noted as a 'blue sky thinker' but his critics pointed to an inability to follow up ideas with meaningful action.
In December the Herald ran a week-long series on the health of cricket in the country entitled The Shame Game. The series highlighted the decay in NZC's high-performance systems. In fairness to Buchanan, the rot set in before he came along, but he did little to repair the damage.
In the end it was probably his inability to strike a working relationship with national coaches John Wright and Mike Hesson that doomed him. Wright claimed he enjoyed working against Buchanan - when they were coaches of India and Australia respectively - more than he did with him.
Wright's departure offered Buchanan a chance to forge a partnership with Hesson who, although an experienced coach, was a greenhorn at international level. Instead it was obvious from the start that they had vastly different ideas about the best way to run a high-performance team.
This left Buchanan with few allies, one being selection manager Kim Littlejohn, another Australian. Littlejohn's contract has expired and he will not be reapplying.