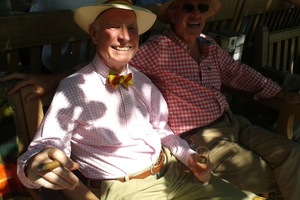 It says something about character and the love of cricket that someone would be prepared to wait from 5.45am on St John's Wood Road in north London to get a seat in the Marylebone Cricket Club's members' pavilion for the opening day of the Ashes test.
That's what MCC member Richard Norman did. He looked the part too: bacon-and-egg bowtie, pink and white check shirt, boater hat, ivory chinos, cigar in right hand and half-full champagne flute in the left as he reclined in the Coronation Garden. Eccentricity matched by endurance.
His toil was not in vain; England recovered to 289 for seven on the first day, having been 28 for three.
"Some of us [members] arrive at 2am to be at the front of the queue. This is a big day, the first day of a Lord's test against Australia. MCC members come from around the world. There are 18,000 of us, and I'd say up to 8000 came today. There is a single queue so you have to get in early and rush to get in the pavilion, Warner or Allen stands.
"I came with guests so they can't go into the pavilion. Compare that to those with seats in other stands who can get in at 11 o'clock. We have to get in early otherwise we take a risk."
Fellow member Brian Jay is with Norman. He's concerned it sounds corny but says it's the highlight of the year, enjoying the company and the sunshine.
"Plus we've got a decent series on our hands, the Australians are not a soft touch like the press kidded us they'd be. "
Jay puts part of it down to the arrival of new coach Darren Lehmann.
"He's a strong man, was a strong cricketer and wouldn't stand for any ruddy nonsense that's for sure. I think they [some members of the Australian team] took advantage of Mickey Arthur."
Elsewhere, 30-somethings Archie and Paul are engaged in a quiet conversation over a smoke near the Harris Garden. Archie sports a moustache which suggests his surname might be Sanchez - he says it is "grooming par excellence" and "the crowd is loving it". Paul has pink - he corrects to "coral red" - trousers on which are so loud you can see them from a furlong away.
The performance of century-maker Ian Bell is under discussion. Both agree Bell is more "terminator" these days than the American Pie-inspired "Shermanator" character, coined by Shane Warne several years back.
"Some might consider the likes of Bell and [Jonathan] Trott [who made 58] boring, stodgy grafters," Archie says. "But their efforts should enable England to get to 300 after the top order's rubbish start. We'll still need a few rabbits to graft it out tomorrow."
Paul is more impressed by Bell's cover drive and his wife, Chantal.
"The Shermanator is on fire. I daresay he has the best-looking wife too, he must be doing something right. He's got a natural magnetism these days, even if he's a bit short [Bell is listed on his website as 1.78m tall]."
Away on the nursery ground during lunch, a number of patrons are soaking up the sun - a rarity thus far during the British summer.
"It's like a big, posh game of rounders, but it's fun to watch," said Kara. "I much prefer this to the tennis where you're expected to be silent and structured. This is fun."
Anna agreed: "It's one English sport you can turn up to and have a really good time with no crowd issues like football.
"I was brought up in cricket, practically grew up beside the boundary. My Dad played but he booked his holiday tickets at the wrong time. He's sitting at home fuming as he gets set to head away.
"We bought biltong with us and have had one Pimm's so far," Lucy added. "We've been very restrained, at least for now."
An over of off-field highlights
1. The Queen's visit (for avowed monarchists) to meet the players. You wield serious power when you can force a delay to the start of play by 15 minutes. The 87-year-old mysteriously disappeared during the middle session prompting media whispers she might be headed in the vicinity of the St Mary's Hospital birthing unit a couple of miles away where the arrival of the third in line to the throne is imminent.
2. The Lord's lunch and afternoon tea - the lamb off the bone in a rich tomato sauce made you grateful to be a carnivore. The sponge cake for afternoon tea was as good as Grandma's efforts out of the coal range when you were a kid.
3. The glowing presence of Shane Warne. However he does it - exfoliation, moisturising, application of l'eau de Chernobyl - the 43-year-old looks a picture of vitality. It's like walking into an advertisement for a health spa when he wanders the media corridors. Plus, he remains one of the game's most astute analysts.
4. Former England opener Geoffrey Boycott, resplendent in short sleeve summer shirt and paisley tie, being refused lunch because he didn't bring his voucher. Tsk, tsk. He was last seen returning with his briefcase and, presumably, the required documentation.
5. The candid disclosure by an otherwise patriotic English lift attendant before entry to the media box: "Just quietly I think we'll lose, but that's our little secret. I don't want to lose my job."
6. Camera shots of Michael Clarke walking his men through a crowded Long Room onto the field. Say what you like about fuddy-duddy traditions et al, but it sent an instinctive tingle down the spine.