Today marks 100 days before New Zealand's first game at the league World Cup. Michael Brown talks to three individuals who will play a big part in the Kiwis' defence of their world title.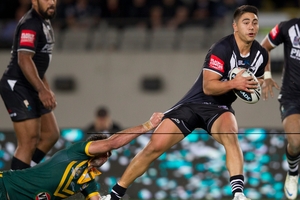 The coach
Stephen Kearney had very little time to think about and prepare for the World Cup in 2008. By the time the tournament rolled around, he had barely been in the job seven months and was also trying to juggle it with being Melbourne Storm assistant coach, when they won the minor premiership (this was later stripped from them for a major breach of the salary cap) but were hammered 0-40 by Manly in the grand final.
He had Wayne Bennett beside him as assistant but, at 36, was only two years into his coaching career.
This year's World Cup has been five years in the making. Kearney has a better understanding of what is required and a clearer picture of the challenges the Kiwis will face. When it comes down to it, however, the Kiwis will adopt a similar gameplan to the one that won them the 2008 crown.
"Someone asked me the other day about playing Australia and how we were going to beat them playing an Australian game," he says.
"In the final of the last World Cup, our completion rate was 85 per cent and Australia's was 65 per cent. I reckon we won the penalty count that night. We scored tries off the back of building pressure.
"That's the game. It's not Australia's game. Australia are very good at it but I reckon if you ask any coach it would be the same - high completions, low penalties."
Kearney has recently put one of the final pieces of his puzzle together, recruiting Penrith coach Ivan Cleary as his assistant. The next task is narrowing the squad down from its present number of 35-40 to just 24 by the second week of October, when all countries need to finalise their squads.
It will be a difficult assignment, which is a good thing, with competition for spots strong in most positions, but uncertainty still surrounds the availability of both Benji Marshall and Sonny Bill Williams.
Kearney is keen to continue as coach after the World Cup, regardless of what happens, and is both optimistic and excited about what lies ahead.
"The thing that gave me the most satisfaction last time was what it meant to the country and people involved in our game at the grassroots level," he says.
"Like the Mad Butchers of our game.
"There are 1000 of those people without his profile and it would be great to do it for them again."
The captain
The decision to replace Marshall as Kiwis captain is looking a good one now as two codes wait to see what the departing Tiger's next move will be and what that means for his chances of playing in the World Cup.
Kearney made the tough call to strip Marshall of the captaincy ahead of this year's Anzac test in the hope of unburdening him to concentrate on his form. He might still play at the World Cup, but sorting out your immediate future and contemplating a switch of codes is hardly ideal preparation as a captain.
It's another reason why Simon Mannering is a safe choice as skipper. He's a different kind of leader from Marshall - he has a lower profile and hasn't appeared in a video about his private life, is understated and extremely consistent - and has the respect of all those around him. He also hopes the mercurial No6 makes himself available.
"I know Benji loves playing for the Kiwis and, if he has the opportunity to play in another World Cup before he leaves [to rugby], I'm sure he will jump at the chance. I hope he does but that's a decision for him to make."
Mannering still hasn't captained the Kiwis since earning the job fulltime - he was forced to pull out of the Anzac test with a calf injury - but has played 30 tests since his debut in 2006. He played all five games at the last World Cup, starting at centre in the final, and admits the excitement 100 days out is starting to build.
"It makes you think back to five years ago and how much enjoyment you had in winning the World Cup," he says. "It definitely doesn't feel like five years ago but it's exciting to hopefully be a part of it again.
"Hopefully I have learned a bit since the last time. Obviously it's a new challenge with having the role as captain and one I am really looking forward to. It will also be a new challenge playing up in the UK. It's a long campaign for us but an exciting one."
The playmaker
November 22, 2008, is a day Shaun Johnson remembers well. He was a puny 18-year-old at the time playing league for Hibiscus Coast but was on the radar of the Warriors.
That night, Johnson was celebrating his girlfriend's birthday with a number of friends and most tuned in to watch the World Cup final.
"We had heaps of mates over and were watching it in her living room," he says. "It was packed. All the guys, we all got our kit off we were that pumped. We thought we were all on top of the world. I remember it so clearly."
It crystallised a goal to one day represent the Kiwis. It was something he had dreamed of as he sidestepped his way through the junior grades but victory at Suncorp Stadium made it seem more real.
"That's the scariest part of it," he says. "I remember thinking that even before the World Cup. When it happened in 2008, I think it's something a lot of young Kiwis thought about and wanted to be there."
Injury notwithstanding, Johnson will be in the final 24-man squad that heads to Britain and France whether Marshall is there or not. He has become a fixture of the Kiwis squad since the 2011 Four Nations (he withdrew through injury) and has played with increasing poise and maturity at both club and international level.
He is a player opposition teams fear - the Australians were wary of him ahead of this year's Anzac test - and can open up a game in a similar way to Marshall. Kearney will have a tough decision to make if Marshall is available because Manly's Kieran Foran is assured of one spot in the halves.
The format
This year's tournament will feature 14 teams, with two pools of four and two pools of three. Groups A and B are stronger and the top three teams in each will progress to the quarter-finals. Only the top team from both Group C and D will move into the final eight. From there, it's knockout. There is no playoff for third and fourth.
The defence
The Kiwis have been drawn in Group B alongside Samoa, France and Papua New Guinea. They probably need only one win to progress to the quarter-finals but they will want to win the group to avoid either Australia or England until later in the tournament. If they can do this, Stephen Kearney's side will probably play Tonga in the quarter-final, and either Australia or England if they make it to the semifinals.
The threats
Australia will go into any World Cup as favourites and England will put together a squad Kiwis coach Stephen Kearney has said will be the "best side I have seen in a long, long time''. Samoa and Tonga will be strong but the tournament should be won by one of the big three.
The squads
Each country is required to name a 24-man squad a week out from the tournament. Players can't be replaced if they are injured during the World Cup.
The history
The French came up with the concept in 1935 but it took until 1954 for the first tournament to be played when Great Britain beat France 16-12 in the final. The Kiwis won their first World Cup in 2008, when they beat Australia 34-20 in the final. Australia have won the world title nine times, including six in a row between 1975 and 2000, with Great Britain the only other winner with three titles (1954, 1960, 1972).
The pools
Group A: Australia, England, Fiji, Ireland
Group B: New Zealand, France, Samoa, Papua New Guinea
Group C: Tonga, Scotland, Italy
Group D: Wales, Cook Islands, USA