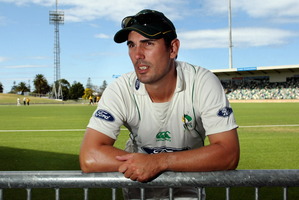 Mathew you've retired at 37. Take us back to your first-class debut. It was January 17, 1996, b Roberts 0 ...
It was at Lancaster Park in Christchurch. I remember having to go in quite early and I got lost. Where we sat was a little further away from the tunnel entrance. Nervous as I was, my first introduction was jumping onto Lancaster Park over the turnstiles to get out to the middle. Stu Roberts got me with a pretty good one first up. I ended up finding the tunnel when I got back because I had more time to look around.
Cricket's been a huge part of your life. Was retirement an agonising decision or pretty straightforward?
In the last three months there's been a bit of soul searching in regards to carrying on. I looked at the youngsters coming through at Central Districts and there's a new coach. I had to take some ownership of where I wanted to go in the game. I wanted to get out of the game on my own terms and I've done that. And I've also been thinking of a career outside the game.
At the best of times you're scraping around for jobs in winter. It all got to me in the end. Why would a potential employer employ me knowing I was only going to be around for six months?
What was your worst winter job?
I haven't had too many bad experiences. I've done port work, stevedoring, fencing, retail sales, bits-and-pieces jobs to get me through. I don't have a degree, but I've got a degree in real-life skills.
Three big test centuries, but we assume the first, 214 on debut against the West Indies at the Basin Reserve in 1999, has pride of place?
Without a doubt. The boy from CD who nobody knew. We were always considered country boys. The opportunity came through Matt Horne breaking a finger and I was next off the rank. Receiving my black cap, playing for the Black Caps and fulfilling every boy or girl's dream of competing at the highest echelon you could go to. I proved that I belonged in that environment. I'd worked bloody hard to get there.
That 150 against South Africa in Port Elizabeth the following year must have been pretty tasty, too. Donald, Pollock, Kallis, Ntini ...
We were in the poop, losing wickets left, right and centre. That day was for me, everything was in sync. The wicket was very similar to New Zealand conditions, low and slow, so I had a lot of time to see the ball. It didn't win us the test but from a personal high point of view, it was definitely up there because that was a very good South African attack.
You faced some fabulous bowlers. The best?
Muttiah Muralitharan. The freaky nature with which he could get the ball to turn the other way, he had me in stitches trying to pick it. He could vary his pace and you were always thinking, "shivers, what's the next ball going to be" and that's exactly what a bowler wants, to have a batsman guessing all the time.
That marvellous one-handed catch off Matthew Hayden in Melbourne - what were you saying to the spectators when you pointed your finger at them after coming up with the ball on the deep square leg boundary?
I won't say what I said but it was along the lines of "what do you think of that?" I'd been getting a bit of gyp from the crowd, we were under the pump and desperate for a wicket. My first thought was to stop the ball going to the boundary. Then, okay, it's getting a bit closer, I'd better start running a bit harder. I put the hand out there and, as luck would have it, caught the ball.
Speaking of Australians, do you have a favourite sledging memory?
I was having to run for Daniel Vettori at the Basin Reserve. I'd got out cheaply. Warney (Shane Warne) was at first slip and commented, "Jeez Sinkers, this is the most runs you're going to get". My reply was that at least I could run. I enjoyed being sledged because it gave me a real sense of belonging, that they valued getting me out.
Pick a couple of players you rate highly for the future.
Will Young, a CD boy who I think has huge potential. He shows all the signs of the right attitude towards the game, all the good qualities you find in a batsman. And I like the look of Corey Anderson, the way he goes about things.
It's been a long innings Mathew. Any regrets?
It's the old would have, could have, should have. What bugs me was my (lack of) consistency within the test environment. I felt like every game I was picked was a do-or-die situation. If I didn't score runs, I'd be dropped. My first-class record is second to none - people would say "why can't you do that at international level?" Maybe I could have had more support to build my self-confidence. A lot of my coaching principles are around being positive. The game is hard enough as it is.