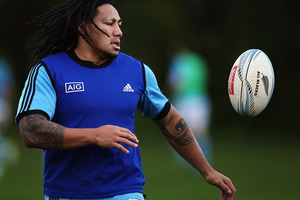 The Hurricanes will this week decide whether or not to make a play for Ma'a Nonu.
The off-contract Highlander hasn't shown a lot of interest in returning to the Dunedin-based franchise for next season and offers from the Blues - where he played last year - Chiefs and Crusaders aren't likely.
The 31-year-old second-five, brilliant for the All Blacks but a mixed bag at Super Rugby level, isn't left with a lot of options for next year if he wants to stay in New Zealand.
Nonu was punted by the Hurricanes in 2011 when Mark Hammett took over the coaching duties at the side Nonu was a staple in from 2003.
The Hurricanes have just over 20 players signed up for next year but Hammett said they needed to add a few more and Nonu was a name that would come up this week.
"We are talking at the moment as a business and as a club and that's something we'll be discussing this week actually,'' Hammett said.
Making a pitch for Nonu would be a backflip from Hammett after he had worked hard to bring a new culture to the Hurricanes.
But there's no denying Nonu's talents on the field when he is locked in and his midfield partnership with Conrad Smith is one of the finest around.
The Hurricanes lacked a solid presence at second-five this year as Tim Bateman didn't kick on from last season, while Reynold Lee-Lo showed improvement in the latter stages of the campaign but is still green at Super Rugby level.
Since Hammett took over, the Hurricanes have finished ninth, eighth and 11th.
The breakthrough is yet to happen but Hammett has been at pains to point out that his side is on the right track.
"At the end of the day I'm accountable ... for the results and I believe in the near future, certainly over the next couple of years, we need to go close, if not win, this competition,'' Hammett said.
"And that's a reality. If any coach is in the job for long-term security then they're in the wrong job, you shouldn't even start.
"I don't think about leading or coaching a team with security in mind, I think about what's best for our Hurricanes club, what's best for the players, how we challenge that, how do we consistently get better?''
Hammett's plans will take a hit if he can't retain 22-year-old pivot Beauden Barrett, a player being courted by the Blues.
The gap Barrett would leave in Wellington would nearly be impossible to fill given he is the country's third-best five-eighth. Hammett has worked on a contingency plan but he wouldn't reveal any details.
As the Hurricanes cast an eye back on their season, the biggest thing that should stick out to them was their inability to win tight games.
Ten times they were defeated in 2013 but seven of those losses were by 12 points or fewer.
"I think sometimes it comes down to confidence,'' Hammett said. ``But we've got a lot of good 21- and 22-year-olds that are now around the 30-35 game mark and so they've been through a lot and I think time - in our training and our game build-ups - we want to just take that to a new level. But the first thing we need to do is get the culture, get the people working and I believe we are at that stage now.''
- APNZ