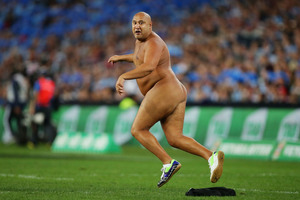 A streaker who threatened to halt State of Origin's greatest dynasty is a Kiwi, who by his own admission 'stuffed up' and is sorry.
Wati Holmwood, 33, removed his clothing and ran almost the length of the field at ANZ Stadium last night, tripping just short of the tryline in an adventure which cost Queensland a try two minutes from fulltime.
His action didn't affect the result but could have had untold impact had the Blues managed to somehow snatch victory late in the game.
"I'm sorry, I apologise about what happened, am I in trouble now?", Holmwood asked a reporter from Sydney's Daily Telegraph last night.
"It all happened so quickly, I don't know what was going through my head," he said.
"I just wanted to make it interesting but I stuffed up Origin. A lot of people hate me now."
While Holmwood, who is originally from Nelson, showed a good turn of pace, his run exposed some lax security at the venue.
It was only after he fell that security managed to catch hold of the Holmwood, who NRL officials believe is the same man that ran onto the field when Wests Tigers played the Warriors in an NRL finals game in 2011.
NSW back-rower Ryan Hoffman was impeded as he tripped over Holmwood, Matt Scott scoring only to have what would have been his first Origin try and the match-winner taken off him.
Holmwood faces a fine of up to $5500 and possible lifetime ban from the venue.
Queensland coach Mal Meninga could afford to laugh off the incident, but it would have been very different had his side been trailing at the time.
"It was disruptive, it cost us a try," Meninga said.
"You just handle it.
"We didn't get the decision we wanted but we got another set of six on their tryline that helped us.
"It's silly, it's ridiculous that it does happen in modern sport."
The Maroons were awarded a scrum feed after the intervention of the video referee, which all but killed off NSW's chances of snatching a late try.
"It was tough for us because of the ruling at the time," NSW skipper Robbie Farah said.
"It was fourth or fifth tackle and they got the scrum feed with a full set of six with only two or three minutes left in the game.
"It wasn't ideal for us."
Added Blues coach Laurie Daley:
"Silly behaviour - what more do you say.
"I didn't know what the rule was - it was fifth tackle, I knew a try wouldn't be allowed.
"I was disappointed we didn't get a set of six."
Stadium spokesperson Arthur Stanley said the offender could face further sanctions.
"There is a possibly he could be charged with a number of other offences including resisting arrest and entering the field of play but that's still to be determined," Stanley said.
"We're disappointed that it happened, but it happens in sport from time to time.
"He came on a very unusual part of the field, so he got through the first line of security and then it took a little while to stop him."
- AAP and nzherald.co.nz