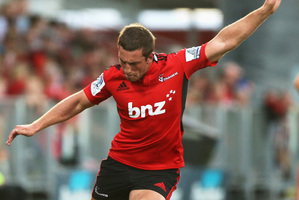 A Super 15 scheduling quirk means the tournament quarter-finalists have scant knowledge of their rivals.
The Crusaders and Reds did not play each other in the round-robin section and neither did the Brumbies and Cheetahs.
A year ago the sides met in pool play and this weekend's hosts both won tight matches. The Crusaders needed five Tom Taylor penalties to get past the Reds 15-11 and the Brumbies squeaked past the Cheetahs 24-23 in early pool play.
This year the revamped system has thrown up anomalies in the quarter-final draw because teams play each side in their conference home and away before they square off against four of the five sides in the other sections.
That meant the Crusaders dodged the Reds and Cheetahs while the Reds avoided the Crusaders and Kings.
The Brumbies did not tangle with the Cheetahs or Chiefs in pool games while the Cheetahs bypassed the Brumbies and Crusaders.
So this weekend's rivals will have to rely on accumulated footage and data gleaned from other sides who have clashed with their opponents.
The TAB favours the hosts to win each quarter-final and gives the Crusaders about a 10-point advantage and the Brumbies an eight-point start.
The Crusaders have won all eight of their home matches this season while the Brumbies have won six games at home in Canberra, lost there to the Crusaders and drawn with the Kings.
South African Jaco Peyper will referee the Crusaders for the first time this season in the opening quarter-final in Christchurch. He has controlled two matches with the Reds when they beat the Highlanders and lost to the Stormers.
The second playoff game will be controlled by New Zealand referee Glen Jackson who has been in charge of matches involving both the Brumbies and Cheetahs this season.
He has refereed the Brumbies twice when they beat the Reds and lost to the Stormers and controlled the Cheetahs victory against the Rebels.
Last year the Crusaders and Reds both made the six-team playoff with the Crusaders beating the Bulls before falling to the Chiefs in the semifinal while the Reds perished against the Sharks in the quarter-final.
The Brumbies finished a point out of the playoffs and the Cheetahs finished 10th.