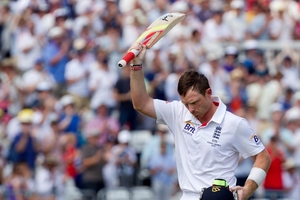 The faces in the opposition have changed since Ian Bell played his first Ashes test but the sledging has not, and Bell was targeted with the S-word during his best test innings for England in the opening match of the series at Trent Bridge.
"There is always the odd muttering of 'Sherminator'," Bell said at Lord's yesterday, with a wry grin. "But I've played Australia enough to know that it's not new. It's been eight years since I first got that nickname from Shane Warne."
Australia have always played and talked hard on the field. It has won and lost them admirers in equal measure.
However, if the fledgling Bell was bothered by being compared to the geek from American Pie in 2005, the 31-year old with 89 tests under his belt is largely immune.
"As a group, Australian teams are going to come at you hard with the way they bowl, the way they dive around the field, their body language, everything," Bell said.
"That Australia team I started against did not always just sledge you. What they did was put you under pressure and that's what it's all about.
"Whether it's two bowlers putting you under the pump, one taking wickets and the other not going for any runs like Shane Warne and Glenn McGrath used to do, that's what creating pressure is all about. It's not just verbals.
"I don't think it's the characters that have changed that much, though, more where I was as a cricketer at 23; inexperienced, didn't know what it was about.
"Now, having played for almost 10 years, I have had some highs and lows, maybe had to learn a bit along the way and I have a bit more about myself to deal with it than I had in 2005."
Some players like to retort to taunts on the field, some simply laugh them off, while others allow themselves to be unnerved.
England have Mark Bawden, a sports psychologist, to provide them with strategies to enable them to cope.
"It's something you have to work on but it is very individual," Bell said.
"I don't see myself as someone who has a go back, verbally, so I try to use my skills to hit the gaps with the bat. If I get away from that and start trying to hit balls that are not there to be hit, that's me losing what I do well as a batsman."