Day out in Morrinsville to see Waikato demolish team of gutsy Shield challengers has nostalgic feeling to it.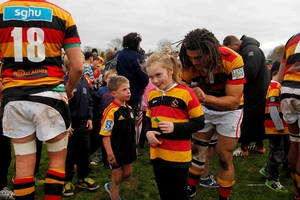 As far as a day at the rugby goes, Waikato's demolition of a brave Horowhenua-Kapiti side felt like a time warp back to simpler days.
Whether it was the kids running on the field at the sound of the fulltime whistle, the banter from the crowd just a few metres from the sidelines, the battered hot dogs and chips or the 2.30pm kickoff, there was a lot to feel nostalgic about.
You could also say that the clear gulf in class between the two teams - one made up of professional and semi-pro players, the other a smattering of amateurs who'd only just got together - could be akin to watching the ruthless Auckland side of the late 1980s, who blew everyone off the park for years.
Ricky Brown was among several Horowhenua-Kapiti supporters who made the six-hour trip north to Morrinsville to watch his side try to create the most unlikely chapter in Ranfurly Shield history.
After 20 minutes it became apparent there would be no fairytale ending with Waikato up 28-0, so Brown settled in to enjoy the festivities.
"It's not often you get to drink a beer out of a glass bottle at the rugby," he reckoned. "Normally you're drinking it out of plastic bottles and it gets warm, so I thought, 'Excellent."'
With him was Stephen Kearney, father of the Kiwis coach of the same name, who went to Campbell Park to watch his son, prop Aaron, a personal trainer, play his blazer match for his province.
Kearney said it was always going to be a big ask for Horowhenua-Kapiti, a team made up of fulltime working sales assistants, labourers, carpenters, students, soldiers and young men in between jobs. The province has just seven clubs to choose players from and opted not to import any players from out of the region.
"That's them, no ring-ins and they only had a couple of weeks' practice before the match too," he said.
"But they will be better for it, it's a good experience for a lot of these boys who will be thrilled just to be playing against a team like this."
Betty Griffiths of Hamilton said watching a top first division side monster the team who were bottom in the Heartland competition last year was "like watching a fully grown teenager beat up a primary school kid".
The 46-year-old and her two sons enjoying school holidays were among the crowd of about 3000. They sat on a grassy bank near the halfway line, below the vendors selling sausages wrapped in bread.
She said she came to watch the game and see local boy and former All Black Brendon Leonard play his last game for the province in Waikato before he takes up a contract playing in Italy.
"It reminds me of a while ago when you could go to the rugby, get home and have dinner while the 6pm news was on, I liked that a lot better."
Horowhenua-Kapiti coach Jared Tarina said many of his players had to seek leave from their bosses to play and several were unable to make the game because of work commitments.
He said his team knew they were up against it but he was proud of their efforts where they competed in patches.
"It's a different speed and intensity but in saying that our scrum held up and it sets us up for the Heartland championship."