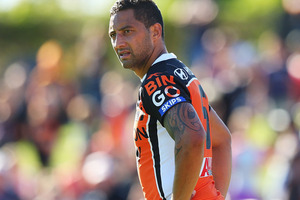 Justis Kamu looks at how Benji Marshall would fare in rugby. Have union fans not learnt their lesson with the league code-hoppers who have gone before him?
1. NRL's elite players are world class
Whether the union loving public of this country want to believe it or not - the NRL's elite players are on par and in some cases better than the best union players in this country.
As one of the few Kiwis who are in this class of players, Benji's pedigree should be respected, but many have already predicted his move to union will be a bust before he's even kicked a Gilbert. To league fans, his virtuoso skills are one of a kind, and he will leave as a legend of the game in light of his achievements in his 11 year career as part of the West Tigers and as a Kiwi international.
Have union fans not learnt their lesson with the league code-hoppers who have gone before him? The NRL competition is a more than adequate preparatory school for players who are intent on moving to union. Brad Thorn, Sonny Bill Williams, Mat Rogers and Lote Tuqiri all did it and excelled in the 15-man game.
Take SBW, for example, he was one of the top league players in the world before he moved to the Crusaders, in fact he was old news by the time he arrived as a rugby player in 2010. By the end of his first season, he was an All Black and part of the touring party on their Hong Kong and Northern European tour despite still being a novice.
The many haters and internet trolls who said that he would struggle to adapt because his knowledge of the game was minimal, that without his shoulder charge he was a weak defender, are now either following him on twitter or jumped on the Chiefs and Sydney Roosters bandwagon.
Marshall, is a world class athlete just like Thorn and SBW, his time in rugby union will prove that.
Although this is disputed on a number of grounds: (1) that his rugby talent is receding, (2) he is closing in on 30 (apparently the first sign of the twilight years approaching), (3) he's prone to injury (although his last significant injury was 2008) and (4) he does not possess the tactical nous to play at pivot.
The Super Rugby competition is not the preeminent professional competition in world rugby that it once was. If Benji was on his way to a team in Europe's Heineken Cup, his kicking game would really be put to the test in much harsher conditions and also in terms of production. Over there, ten man rugby is the norm and five-eighths who can lace the ball 60m downfield 15 times a half or kick 50m penalties at every opportunity are prerequisite skills.
He will be playing in a more free-flowing and open game in the southern hemisphere which will provide a platform for him to flaunt his various capabilities.
Will he make the All Blacks? Yes, the coaches will throw him in the mix, just as they have the other code hoppers who have donned the black jersey. No one will die wondering what his skills could've achieved if part of a first-class All Blacks set-up.
Union coaches are excited about his arrival to their new code - John Kirwan, Gordon Tietjens, Wayne Smith and Sir Graham Henry are all appreciative of what he has to offer this game.
Union fans should too.
He will be will be sorely missed by league followers who have been admiring his work since his first grade debut in 2003.
2. Should the Warriors recruitment stick to all Kiwi approach?
The signing of Leeds duo Jordan Baldwinson and Mason Tonks to the Warriors under 20's system on the surface appears to be an odd decision made by General Manager of football operations Dean Bell.
Considering that genuine halfback and five-eighth prospects are few and far between in this country, the club may have been better to look offshore to fill the halves spots. The Warriors development system and league in New Zealand have a factory of second rowers and props at their disposal in the grassroots level such is the physical makeup of many teenagers in this country.
So you can't help but think that the opportunity of young Kiwi backrowers are being taken away by looking at England's unproven talent to fill spots in the under 20s squad.
Yet this new recruitment strategy taken by the club to sign players to the system regardless of where they come from is the right approach to achieving the club's goals of being at the top of the NRL tree. Having junior players from overseas will increase competition for spots in the NYC squad, which should have the effect of improving our local talent.
Also acquiring English players at the NYC level, allows for the Warriors to bring them over on one year deals before upgrading them to a professional contract if they can prove that they are first grade material. This avoids having to pay a huge transfer fee to acquire players who are signed to long-term deals to a Super League club.
3. Can the Broncos secure a playoffs spot?
The super club that was once the giant of the NRL is now on the brink of missing the playoffs for the second time in its 25-year history.
When coach Wayne Bennett was at the helm, the Broncos were the most popular sporting team in Australia, had won six premiership titles and attracted the NRL's best players.
Today, coached by Anthony Griffin the side has not made any signings for 2014, is in a six game slide, and are seeing more empty seats at their stadium than the its union occupants the Reds.
The club's aura is fading and fans have voiced their frustration at the club's current on-field woes and recruitment failures.
Their chances of playing playoff football are slim. Currently sitting 13th on the competition ladder on 14 points, six points outside the top eight, they must win all of their seven remaining games to have any chance of making the playoffs.
In their favour they will not face any of the top four teams, but in view of their recent troubles, the Broncos will need a miracle to turn things around.
4. Maroons will make it eight series wins
Any hopes of a New South Wales victory took a massive hit last week with captain Paul Gallen pulling out of the Sydney game three decider due to injury.
Over the years he has been a one man wrecking ball but has been joined Luke Lewis and Ryan Hoffman as forwards who can cause havoc on the field.
Aaron Woods is an admirable replacement but as displayed in game two where he was limited to 36 running metres, he is two or three years away from being a true Origin player.
The backline have lost Jarryd Hayne but still retain that x-factor ability in Josh Dugan, the Morris twins and Michael Jennings with James McManus to fill the other wing after Nathan Merritt's forgettable debut at Suncorp Stadium.
The halves as always will be the greatest cause for concern for the blues. James Maloney and Mitchell Pearce need to establish themselves early to shake off any signs that they are not recovering from the dizziness of the masterclass that Cooper Cronk and Johnathan Thurston delivered in game two.
Tonight's match is set to be a classic and the Blues have home advantage is a sellout crowd at ANZ Stadium. The Maroons are not ready to relinquish their stranglehold on the State of Origin series, that experience should see them claim their eighth straight series win.
Prediction: Maroons by six points.
5. Kiwi Ferns lose World Cup final
The Kiwis Ferns weren't able to clinch their fourth World Cup title after going down to the Jillaroos 22-12 in the women's final on Monday morning (NZ time) in Leeds.
New Zealand were favourites heading into the tournament decider having won three previous world cups and had beaten the Australians in their final pool match 14-6.
The four tries to three victory to our trans-Tasman neighbours saw the Aussies lift the trophy for the first time. Their win was dedicated to coach Graham Murray who had to pull out of the team's trip to the UK after suffering heart problems with Paul Dyer taking over the reins as head coach.
Kiwi Ferns Sharnita Woodman, Carlotte Scanlan and Aimee Gilbert all crossed the chalk with the Jillaroos adding scoring twice in the first half and late in the second to secure their first ever women's World Cup title.
6. Team of week
1. Fullback: Michael Gordan (Sharks)
2. Wing: David Simmons (Panthers)
3. Centre: Tim Lafai (Centre)
4. Centre: Jamie Lyon (Sea Eagles)
5. Wing: Sam Perrett (Bulldogs)
6. Five-eighth: Tood Carney (Sharks)
7. Halfback: Luke Walsh (Panthers)
8. Prop: James Graham (Bulldogs)
9. Hooker: Kevin Kingston (Panthers)
10. Prop: Sam Tagataese (Sharks)
11. Secondrow: Dale Finucane (Bulldogs)
12. Secondrow: Tyrone Peachey (Sharks)
13. Lock: Chris Heighington (Sharks)