Blues coach says rest of team need to give Roosters star the platform to lead the side.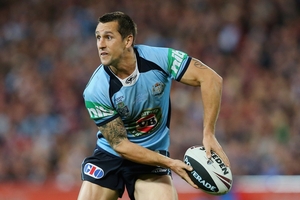 Laurie Daley says Mitchell Pearce's NSW career won't be over if Queensland win an eighth successive State of Origin series tonight.
Ever since he was appointed as Ricky Stuart's replacement last year, Daley has maintained Pearce would be his first-choice No 7 and expects the Sydney Roosters star to be in place next year.
Pearce has admitted he doesn't expect to be given another crack at the Maroons in 2014 should he fail once again to guide the Blues to a first series win since 2005 after three years in the role.
However, Daley said he has never entertained the prospect of axing the 24-year-old.
"That is not my expectation. He may feel that, but he's a great kid and he'll be on the scene for a number of years," Daley said.
"He's just got to play his role and we'll give ourselves a chance.
"I've never spoken to him about the last chance or anything about that ... just the team and everything around him."
Pearce has been a target for criticism from Blues fans for what many perceive to be a poor kicking game, but Daley said it was up to the rest of the side to give Pearce the platform to lead the side around the field.
"That's what frustrates me sometimes with Mitch - people are always giving it to him when it goes wrong," he said.
"There's plenty of things we need to do well and, if we do them, then Mitch is a great player to have.
"But any halfback will tell you - if it isn't happening across the team, everyone will struggle."
Daley is also hopeful his side will be given a fair go by referees Shayne Hayne and Ben Cummins.
The Blues were privately seething after losing the penalty count 8-5 in a first half dominated by Queensland as they laid the foundations for their 26-6 win in game two.
One of the issues that caused the most ire was a strip on Ryan Hoffman that went unpunished by Hayne and a belief the 10-metre rule was not being consistently enforced.
The Hoffman incident led to the build-up of the second try scored by Darius Boyd and Daley has met referees boss Daniel Anderson to clarify how the game will be officiated.
Ashley Klein was axed for game three with Hayne kept on, but the feeling among some members of the NSW management is that the wrong man was dropped by Anderson.
Daley was diplomatic when asked what he thought of the choice of officials but hopes Hayne and Cummins will be consistent to both sides.
"I'd like to think NSW would be given a fair crack," Daley said.
"We were aware of the things they were looking for [in game two] ... but that's the way it goes sometimes when you play in front of hostile home crowds.
"There were things that were out of our control and you'd like to think after 20 minutes this time, we'll have more than 20 per cent of possession.
"But we need to be strong in our discipline."
NSW remain hard to beat, warns Smith
Queensland skipper Cameron Smith has cranked up the mind games ahead of tonight's State of Origin decider by claiming NSW are better off without skipper Paul Gallen.
The Blues' preparations were thrown into turmoil by the loss of Gallen last Friday.
The 31-year-old has been a giant influence for his side since becoming skipper in 2011 and produced one of the great Origin displays in game two that year when he played the full 80 minutes in the front row to help his side to an 18-8 win.
Smith said he was a huge fan of Gallen, who is his vice-captain in the test side, but believes NSW will be more difficult to beat without him.
"If anything it's probably going to be even harder," said Smith.
"I think you see a lot of teams when they lose a senior player they share the workload.
"They know they have to play even better to make sure that his loss isn't felt as much as everyone thinks.
"There's no doubt he [Gallen] is a huge loss. He's their captain and he's a guy that it doesn't matter what situation their team is in, he puts his hand up to do plenty of work."
Smith said he called a meeting of his players to warn them of the peril of under-estimating NSW with young guns Aaron Woods and Boyd Cordner in the side.
"They are both playing really good football. They're both in form for their respective clubs, so if anything we need to be even more on our game now."
The Maroons have not won in Sydney since 2010 but Smith denied the sell-out home crowd of more than 83,000 would intimidate his side as they look to make it eight straight series wins.
He said the amount of big-game experience in his team would hold them in good stead to maintain their stranglehold over the Blues.
"We've got three guys that play for the Rabbitohs that play there nearly every week of the season, so it's not a foreign place to us and we have all been successful there before so we just need to take the right attitude into the game.
"We didn't in game one and we got beaten, so we've learnt from that and we know how to approach this one a lot better."
- additional reporting Adrian Warren
- AAP