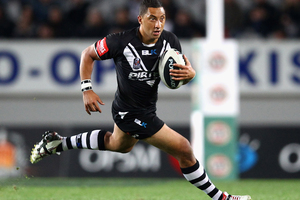 There are a number of interested parties in two codes waiting to see what Benji Marshall's next move is, not least of all Kiwis coach Stephen Kearney because Marshall's imminent switch to rugby union casts doubt on his involvement in the Kiwis' defence of this year's rugby league World Cup.
The 28-year-old last night requested an early release from the final two years of his Wests Tigers deal so he can explore the possibility of switching to rugby union. He has become increasingly disillusioned with the NRL club he made his debut for in 2003 after they refused to honour a handshake agreement over an upgraded contract.
He has said he couldn't play for a rival NRL club and it's hard to see him heading to the UK to play in the Super League.
His agent Martin Tauber said Marshall will see out the rest of the season with the Tigers but it's not yet clear what his next move will be - the Blues, Waratahs and Japan seem the most likely options - and what that means for the Kiwis.
If he heads to Japan, he would almost certainly leave rugby league immediately after the NRL season but if he signs for the Blues or Waratahs he could still play in the World Cup, which starts at the end of October.
Marshall has struggled to find the sort of form that saw him set the rugby league world alight in 2005, helped the Kiwis to their first World Cup title in 2008 and saw him awarded the Golden Boot in 2010 for the international footballer of the year. It's why Kearney opted to replace him with Simon Mannering as captain ahead of this year's Anzac test in an attempt to unburden him and let him just play.
It was a decision Marshall took badly - he had held the role since 2009 - but there were no guarantees he would have played in the Anzac test with Kieran Foran and Shaun Johnson striking up a decent combination in the halves. Kearney didn't need to make that decision with Marshall picking up a toe injury a week before the game.
Marshall will be included in New Zealand's 24-strong World Cup squad if he's available and willing.
Kearney and the Kiwis selectors are likely to opt for Foran, Johnson, Marshall and Leuluai in the halves, with Foran the only definite starter.
On the surface that looks like plenty of cover but Leuluai is being seen as a backup to Issac Luke at hooker and the Kiwis would be in trouble if one of their halves and Luke was injured. Marshall's availability would be welcomed because squad depth is a key element of any successful side.
One possible solution would be Sonny Bill Williams, who excelled playing in the unaccustomed position of five-eighth when Origin and injuries hit the Roosters.
The lure of playing in a World Cup is hopefully too much to avoid for Williams, but Marshall might feel he's been there, done that. He played a leading hand in the 2008 triumph, scoring a crucial try in the final after Billy Slater's reckless pass infield, and might worry that he would be a squad player in this year's instalment.
He might also feel he needs all the time he can get to help him get up to speed with rugby, including a full pre-season.
Kearney has given Marshall space to make his decision but had hoped he would stick with rugby league.
"My hope is that he stays in the game because he's been wonderful for our game and the game has been wonderful for him,'' Kearney said recently. "It's a big decision for him and the next deal could be close to his last big contract.''
- APNZ