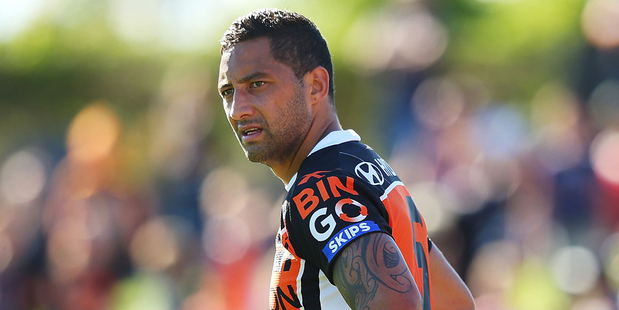 With reports suggesting Kiwis and Tigers playmaker Benji Marshall is set to jump codes, the Blues are lining as a possible destination for the 2014 season.
Blues coach Sir John Kirwan has been in touch with Marshall's agent, Martin Tauber, about the star signing with the rugby franchise. But there has also been interest from the Waratahs, and from rugby clubs in Japan that could offer more lucrative deals.
The Blues failed to make the Super rugby playoffs for the second straight year, winning just six of their 18 games in Kirwan's first season as coach. They have won just 10 of 36 games over the last two seasons and haven't won a playoff game since 2003.
But would Marshall be the answer to break the Blues' decade long drought?
FOUR REASONS WHY THE BLUES SHOULDN'T TOUCH MARSHALL WITH A BARGE-POLE
1. There are better available options
If Blues ownership and management are making a purely rugby decision, why would you take a punt on Marshall when you have the chance to lure Beauden Barrett? The Taranaki first five-eighth is light years ahead of where Marshall would be in terms of rugby instinct and the fact he has already accrued eight test caps (most of them in fleeting cameos), indicates how highly he is rated.
At 22, Barrett has youth and rugby pedigree on his side and the drum beats continue to get louder that he wants out of Wellington. He is the third best No 10 in the country with the potential to usurp Aaron Cruden as Dan Carter's back-up. By most measurements, he is a more level-headed rugby option than the wildcard Marshall.
2. He is a player on the wane
This is the time when fence-sitters roll out the form is temporary, class is permanent cliché. While that might be true to a point, there comes a time when class merely papers over the cracks.
At his best, Marshall was a show-stopper like few before him, with his intoxicating combination of speed, footwork and an array of passes straight out of the Harlem Globetrotter handbook.
But seriously, when was the last time Marshall consistently took over games?
A series of shoulder dislocations (2004, 06, 07) and a knee ligament tear (2008) have dimmed him, as they would anybody, and he would be 29 by the time he pulled on a Blues' shirt in anger.
There is a reason Mick Potter dropped him this year, just as there is a reason Stephen Kearney prefers Simon Mannering as his skipper: the Marshall magic might still be there, but it is no longer on tap.
3. His lateral running game is ill-suited to rugby
Marshall has a unique way of playing the game that requires a lot of players in motion as he crabs across the field looking for chinks of light in defensive walls.
This could be a problem. Rugby is seldom a game for mavericks anymore - it's certainly a lot different from the days when he last played it as a schoolboy - and it fast approaches the coaching prescription of American football. Marshall's style would inevitably close down the space of his outsides from set-piece and structured phase play, which could nullify what should be a Blues strength in future years - its pacy outsides.
That's not to say it couldn't work, but it appeals as a long-term coaching project, not a short-term fix.
Marshall has the short kicking game to play first five-eighth, but does he have the ability to effectively clear the lines on a foul night in Christchurch?
4. He comes with baggage
League reporters who have followed his career closely will tell you that sometimes it is all about Benji - one giant superstar with a retinue of minions.
That shapes as an awkward fit into the ethos John Kirwan is trying to instill. You only have to look at how Sonny Bill Williams struggled at the one-for-all Crusaders before he found a more natural fit at the Chiefs, where they were happy for his star to shine brighter than anyone else.
AND ONE BIG REASON WHY THEY SHOULD...
1. Bums on seats
Marshall is a magician, a player of such rare skill that the tight-lipped Wayne Bennett was moved to say: "He is a remarkable talent, born out of living on the edge. That's the way he is. He was made to be a footballer."
Marshall would be a stadium-filler in the mould of SBW. He would lift the profile of the Blues in a city where it competes for the affection of the discretionary dollar with the Warriors, Breakers and any number of one-off events.
Ultimately, he might offer more froth than filling, but that's not always a bad thing in this city.
- Herald staff