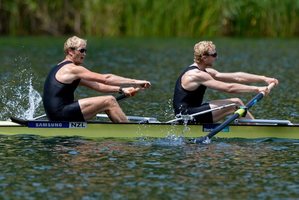 Olympic champion Hamish Bond has credited the training competition between the men's pair and men's double as a core reason why both New Zealand rowing crews remain unbeaten this season.
At the final World Cup in Lucerne at the weekend, the pair of Bond and Eric Murray equalled the world record of 15 consecutive international regatta wins held by Belarussian single sculler Ekaterina Karsten. It's a figure they could own alone if they triumph at the world championships in South Korea next month.
The men's double of Robbie Manson and Michael Arms, whose selection created debate when they replaced Olympic gold medallists Nathan Cohen and Joseph Sullivan, have flourished. Of their three World Cup wins, Sunday's effort against all the world's premier crews on the Rotsee was the most emphatic.
Bond credits the new coaching regimen with maintaining the success of both boats.
He says he and Murray needed freshening after a punishing road to Olympic gold under coach Dick Tonks. The pair have also formed a solid gauge for the double to match themselves.
"It forms a healthy rivalry," Bond said. "They're not after our seats and we're not after theirs. We're just there to work off each other because having someone next to you in training means you push harder."
Bond says their new coach Noel Donaldson and men's sculling head coach Calvin Ferguson have collaborated well.
"Noel's made an effort to work in with the other coaches.
"He knows we like to train with other crews so we go out of our way to work in with other people's programmes. Ferg has done likewise."
Bond paid tribute to Tonks' relentless nature to get the best out of the pair but says they needed a change and Donaldson has provided it.
"Both are successful [Donaldson coached Australia's Oarsome Foursome to consecutive Olympic titles and Tonks' efforts as the architect of the New Zealand programme are well-documented] but they have different mentalities on the coach's role.
"The training we did with Dick has made us the athletes we are today; there's no two ways about that.
"We're not doing anything drastically different; just a few less rowing kilometres which we're picking up in other areas. There's more cycling and work on the rowing machines - just variations really."