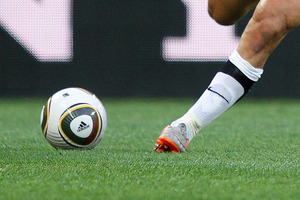 A Wellington football club at the centre of a racism row has today rubbished allegations its players abused opponents of African descent.
Seatoun AFC has lodged a complaint to local federation Capital Football after claims players were racially abused during a fixture against Lower Hutt AFC.
They say one premier player of African descent was called a "black bastard", while another was referred to as a "black c***".
Seatoun says its players have been subjected to racist abuse several times in the past few years and now want a full investigation by Capital Football.
They've also lodged a complaint with the Human Rights Commission.
But Lower Hutt strenuously denies the claims, saying it's a racially diverse club which embraces different cultures.
President Jim Baxter says the club has already investigated the July 6 allegations and concluded they were untrue.
"It was the opinion of the guys involved that it was a storm in a teacup and that there was no basis to the complaint," he said.
"There's no room for that type of culture in my club."
Lower Hutt actively promotes "ethnic engagement", Mr Baxter said, fielding a team of Fijian Indians in club colours and having brought through "many underprivileged African lads".
"It's ridiculous to suggest that we are racist."
He denied claims that racism is widespread in Wellington football leagues.
Capital Football chief executive Richard Reid confirmed a complaint was received on Friday. It was being reviewed and an investigation is being launched.
"I don't know what happened yet, but we'll get to the bottom of it," Mr Reid said.
More than 900 matches are played in the Wellington area every weekend, and after 18 months in the job, he says he's never experienced such allegations before.
World governing body FIFA has been "extra rigorous" in trying to stamp out racism from the game and Capital Football will do the same, Mr Reid said.
But he said people shouldn't be surprised that racism occasionally emerges on the sporting field.
"It's unfortunately a fact of life. It doesn't make it right, and it doesn't mean a body like us shouldn't try and stamp on it immediately."
Race Relations Commissioner Dame Susan Devoy said while she is unable to discuss details of specific complaints, she supports constructive efforts to respond to racial abuse and harassment.
She noted that New Zealand Football's code of conduct makes it clear that it rejects any form of racism.
"I am confident that this will be treated with the seriousness it deserves by football administrators," Dame Susan said.
"As commissioner, I urge those engaging in racial abuse to take a breath and think how they would feel if such abuse was directed at them."
- APNZ