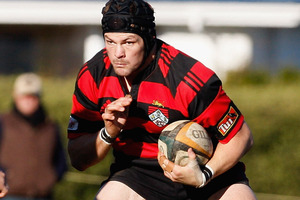 A return to the Crusaders for Richie McCaw this week would put him on a collision course with Quade Cooper, a controversial character with whom the All Blacks captain has a long and colourful history.
While coach Todd Blackadder played his cards close to his chest yesterday about when McCaw would return following a successful comeback from his sabbatical for Christchurch, there were enough hints to suggest the 32-year-old would replace Luke Whitelock on the reserves bench for Saturday's sudden-death match at AMI Stadium.
It would make sense - not just for this game, but for the week or weeks after, providing the Crusaders keep winning.
If McCaw gets 20 or 30 minutes off the bench and the Crusaders win, it puts him closer to a start the following Saturday. If the playoffs go to seedings and the Brumbies beat the Cheetahs in Canberra, that will mean a semifinal against the Chiefs in Hamilton for the Crusaders, a repeat of last year.
The Bulls are the Crusaders' other potential semifinal opponents.
"He's got muscle memory, he's a tough customer, he's played in World Cup finals," said Blackadder of McCaw's ability to step up after one game in eight months. "I don't think there's any doubt he could go out there and do the job but also too you've got a [good] loose forward trio and Luke Whitelock, who has stepped up on several occasions this year."
McCaw suggested at Christchurch Park after his club game at the weekend that he was ready for a return, a vote of confidence in himself that is likely to be enough for Blackadder.
Now he will be part of a brains trust plotting the downfall of Cooper, a man with a new lease of life following the departure of Wallabies coach Robbie Deans.
Deans, the former Crusaders supremo, wouldn't select Cooper after a long series of run-ins, but the playmaker has a big supporter in Ewen McKenzie, his coach at the Reds and the man who is taking over the Wallabies.
Cooper's clash against counterpart Dan Carter is likely to be a highlight but so too will be his reaction to McCaw's presence.
Cooper's constant cheap shots on the All Blacks No7 caught up with him at the 2011 World Cup when his every touch was booed by the crowd. His underwhelming tournament ended with a serious knee injury in the semifinal defeat at Eden Park.
He can amaze and infuriate in equal measure, and Blackadder acknowledged the Reds playmaker was likely to be influential.
"When you've got Quade Cooper, and I thought he had a good game in the weekend, they're always going to be a threat.
"Ewen McKenzie is the Wallabies coach and you saw even in the weekend against the Waratahs there's a lot to play for now [for Cooper]. There's a new-found incentive or motivation now. He'll want to back himself against Dan, it will be a big match for him to prove he's in for Wallabies contention."
Blackadder, boosted by positive news on Tom Taylor's head injury which will allow the second-five to be available for Saturday, added the Reds, whom the Crusaders haven't played this season, posed different questions on attack, thanks largely to Cooper's often unorthodox approach.
"They're very smart, they've got a good kicking game, and on attack they're really flat so if you let their play-makers over the gain line you're in for a hell of a day."
- APNZ