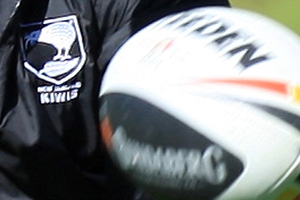 The New Zealand women's rugby league team have lost the World Cup title for the first time following a 22-12 defeat to Australia in the final at Headingley, Leeds overnight.
Australia, who lost to New Zealand 14-6 in pool play, claimed the World Cup title for the first time after running in four tries to three.
Jenni Sue Hoepper, Tarah Westera, Samantha Hammond and Heather Ballinger all crossed over for Australia while Ali Briggenshaw kicked three goals. For New Zealand Sharnita Woodman, Charlotte Scanlan and Aimee Gilbert scored but it wasn't enough for the three-times reigning champions.
"The Australians played better as a team," said the Kiwi Ferns coach Lynley Tierney-Mani.
"They had patience and composure and they deserved the win. Our set completion wasn't great and they kept wearing us down. They chased us and they caught us.
"Our heads are held high though. Everyone gave everything - both the players, including those that didn't play today, and the staff. It was a real gutsy effort and I'm very proud of them all."
The match concluded a big last few weeks for the New Zealand captain Honey Hireme. She scored seven tries in the tournament, after flying straight to the UK from Moscow, where she'd won a rugby 7s world title for New Zealand.
"We were in it until late in the match," said Hireme. "But we made more mistakes than we could afford and they played 80 minutes. We're absolutely gutted, but the girls are aware they've done their families proud - and so have the Australians. The Aussies are ecstatic right now and good on them. They have had some tough losses before and now is their moment."
The Kiwi Ferns did plenty to give their vocal supporters at Headingley hope for a fourth World Cup win and they led at three different stages of the game. Their hooker Sharnita Woodman got things started with a try from dummy-half not long after kick-off. The Australians hit back quickly though to level the scores at 4-4.
The Kiwi girls pulled away when Charlotte Scanlan scored midway through the first half. But, as they can be inclined to do, Australia scored again to make it 8-8 just before the break.
In the second half, the Kiwis took the lead for a third time when Aimee Gilbert crossed after a sustained period of attack. With the conversion again missed, the Kiwi Ferns were up 12-8. But two further Australian tries, along with a penalty, secured Australia a first ever women's World Cup title.