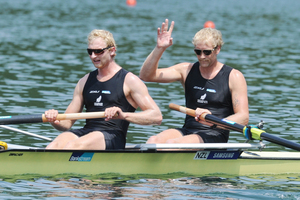 Swiss rowing crowds tend to be a tough gig to entertain but Hamish Bond and Eric Murray had them applauding in the aisles at the Rotsee overnight.
The New Zealand men's pair equalled the record for the most consecutive wins at international regattas (15) with another World Cup win. They join Belarussian women's single sculler Ekaterina Karsten on the mark; a win at next month's world championships in South Korea would see them hold it as their own.
Their win formed part of an overall New Zealand medal haul of three gold, two silver and a bronze, all in Olympic classes.
Spain and France dominated the start of the pair race, leaving Bond and Murray down 1.71s at the 500m mark. That discrepancy was soon eradicated. The New Zealanders went on to win by 5.16s.
"If it was me racing us, you've have to do something different to get in front and rattle us," Murray said in relation to the early challenge. "That's the only way against all the top crews who people say are unbeatable; do something different.
We've seen people go out fast all weekend and it's still making for good competition."
Bond hadn't done the maths on their mammoth victory march but was prepared to take his partner's word.
"Eric worked out we'd gone 51 races without losing before this regatta so I guess that makes it 54 now. I don't get sick of it. I almost felt as nervous today as I did before the Olympic final but I guess if you're not feeling like that you're not caring enough. As much as I hate it, I have to look at it as a positive."
Their sometime training partners, the men's double of Robbie Manson and Michael Arms, completed a hat-trick of World Cups in their first season together in the boat. Both came out of the quad to replace Olympic champions Nathan Cohen and Joseph Sullivan.
"There were a whole lot of crews we hadn't raced before but we're starting to make a name for ourselves and gaining more respect from other competitors," Manson said. "It's almost more relaxing sitting on the water because you can actually do something rather than sitting at home thinking about it."
"These medal ceremonies are something I'd like to get used to," Arms added.
The men's lightweight four of Curtis Rapley (22), Peter Taylor (29), James Lassche (23) and James Hunter (20) also continued unbeaten.
They crossed 1.97s clear of the Olympic bronze medal-winning Danish crew, who they pipped at Eton Dorney, to complete a set of World Cups.
Olympic lightweight double sculls bronze medallist Taylor has led the group, making a successful transition to sweep oar rowing.
"This was the biggest regatta for our boat so far," Taylor said. "We took it by the scruff of the neck and didn't let go. This crew's a joy to row with; technique and fitness helped us win."
Lassche said it was "something special against a stacked field", Rapley appreciated "the mongrel out of start for the first 1000m" and Hunter described it as "an epic dogfight".
The country has never won a world championship or Olympic title in the discipline but the future burns bright.
In other results the women's pair of Rebecca Scown and Kayla Pratt took their second silver of the season behind Britain.
The women's double sculls of Fiona Bourke and Zoe Stevenson also came second; Lithuania pipped them by 0.02s in the closest final of the day.
The Kiwi duo built momentum throughout but the Lithuanians led from start to finish.
"It's one of our best races," Stevenson said. "But we left ourselves too much to do in the last sprint. We need to hang in front more at the start rather than chasing in last 500m.
"[Coach] Dick [Tonks] is very much about doing kilometres in training and having a good middle 1000m so there's less need to sprint," Boukre added. "It's not shabby competition but we've got time before the world championships to make up that difference."
Lucy Strack and Julia Edward earned bronze in the lightweight women's doubles sculls with a surge from last in the final 500m.

Women's single sculler Emma Twigg came fourth as her competition strengthens ahead of the world championships while the women's eight were last in their straight final.