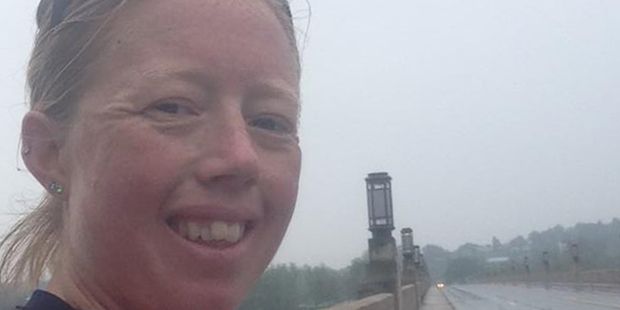 Hibiscus Coast runner Alison Bradley took the concept of travelling light to new heights as she jogged her away across America in an unofficial world record time in a bid to raise money for the fight against cancer.
With no support crew on hand until the final month of the epic 68-day run from New York to Los Angeles, Ms Bradley had to carry her worldly needs for every step of the thousand-odd unassisted miles across the American interior.
Unsurprisingly, she decided she didn't need much, settling for a Camelbak to provide vital hydration, a spare T-shirt, shorts, toothbrush and wallet.
Each day she'd run a marathon - or two - stopping at fuel stations for the odd Snickers bar, before arriving at a pre-booked hotel to crash out.
All-up, she covered 4500 kilometres, burning the rubber from the soles of six pairs of shoes as she traversed 11 states on the coast-to-coast journey.
"It still hasn't quite sunk in, but I'm really glad to have done it," she said after arriving at the steps of Los Angeles' City Hall yesterday.
"It was crazy, I think, is the one word to describe it."
She braved lightning, rain, thunder, heatwaves, floods, and gale force winds. "I feel like I've been through it all."
The former Takapuna Grammar student lost 12kg but overall her body held up remarkably well to running close to two marathons every day for over two months.
"I lost two toenails, got a few blisters and I'm sore but ... I'm still walking."
While she didn't have any immediate plans, Ms Bradley didn't rule out attempting another epic journey.
At last check she had raised US$3500 ($4500) for cancer research. Donations can still be made through her website: http://run2fightcancer.webstarts.com/index.html