Australia captain says he's not out to knock umpiring process.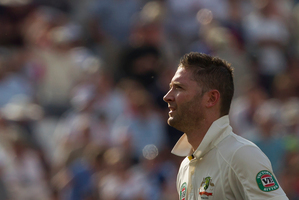 Australian captain Michael Clarke is refusing to blame cricket's decision review system for his side's first test difficulties, despite players seemingly losing faith in the umpiring process.
Day four once again ended in flashpoint at Trent Bridge, with confusion and inconsistency plaguing the way the DRS is used and its potential effect on the Ashes series.
In a match-defining moment in the 59th over with Clarke and Steve Smith looking promising, Clarke stood his ground on a caught behind dismissal, just 24 hours after Stuart Broad refused to walk for a nick to first slip.
Clarke was rightfully given out for edging Broad behind late in the final session - and was the first of three Australian wickets to fall in four overs.
But the way the process of Clarke's dismissal was handled by both the Australian captain and umpire Aleem Dar highlighted the flaws in the system.
Before giving Clarke out on-field, Dar originally sent the dismissal upstairs to ensure wicketkeeper Matt Prior had got a clean catch on the ball, something which he's entitled to do.
But the fact Dar can check with the third umpire for some things, yet rules don't allow for a howler like Broad's edge to be overturned, is a bad look for the game.
As is the subsequent attitude of players, which is to try and get away with what they can from DRS.
"I've said to our team that if you feel you're not out, then back your judgment," said Clarke, who claims he went upstairs because he didn't know if he'd got a touch on the ball. "If the review doesn't go your way we move on.
"I was given out and had another look when I came in the changing room and there was a little spot there on HotSpot. That's the way it goes. That's how the review system operates."
England felt dudded on day two when Ashton Agar survived a stumping review on his way to 98, and when the third umpire stuffed up in dismissing Jonathan Trott lbw.
Australia have copped the raw end of four umpire's calls through the match, with Chris Rogers in the first innings, and Shane Watson and Phil Hughes in the second, all out for line-ball lbw decisions.
For two of the umpire's calls that went against them, Australia also lost reviews.
Clarke refused to buy into debate over whether DRS rules needed to be re-examined.
"It's the same for both teams. We have no excuses at the moment. I'm certainly not going to use DRS as one," he said.
"For us I think we would like to have had a few more wickets in hand. I would like to be not out, that's for sure."
- AAP
Captain who stays calm can make the difference
At the end of the first Ashes test, Alastair Cook and Michael Clarke will feel as though it lasted for three weeks, such are the mental, emotional and physical pressures.
Clarke has captained Australia against England before but the one-off test in Sydney three years ago was completely different. Then he was standing in for Ricky Ponting. This time he is in charge. This is the Michael Clarke tour to England.
This match has ebbed and flowed so much that there has not been a moment when the captains could relax. Cook will not have lived a single moment without nerves.
England lost it when Ashton Agar and Phillip Hughes put on 163 for the final wicket on the second day. Cook set a few defensive fields but in the second innings showed he had learned the lesson.
At first he had a man out on the point boundary yesterday when Steven Finn was bowling to Ed Cowan, basically to cover a bad ball. But he brought him back in to keep the pressure up on Cowan.
He set some attacking fields to Chris Rogers and was brave to bring on Joe Root for Finn, just when Finn was starting to find his length.
I would have kept Finn on for longer, but he went for Root and he made the breakthrough before tea.
Cook will be a better captain for those experiences in this match. The same for Clarke.
We lost my first Ashes test at Lord's but then won by two runs at Edgbaston. In an Ashes series it is the captain who stays calm who can be the difference between winning and losing.
All the players have looked tense at Trent Bridge but at Lord's next week there will be a calmer feel.
When you bat under pressure you want to force the pace. You play a big drive and chase balls you should not because you want to make an impression on an Ashes match. That was the downfall of some of the Australians in the first innings.
You have to know your game inside out. Look at Chris Rogers. He is 35 but playing his first Ashes test. He has played enough first-class cricket to know his stance, his backlift, his technique to certain types of bowling and has looked an elder statesman. Contrast that with out-of-form Cowan.
There is also something not right with Finn. The areas he has hit on the pitch have been inconsistent and there is something wrong with his run-up.
As an individual player you have to grab all the experience you can. Remember the emotion and feeling, store it up and play with more know-how in the next game. That is what Ashes cricket is about. Learn, survive and improve.
- Telegraph Group Ltd