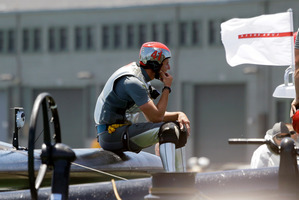 Luna Rossa are refusing to allow beleaguered syndicate Artemis Racing dispensation to the America's Cup class rule, throwing the Swedish team's participation in doubt once more.
The Artemis team, who are battling to get back on the water following their fatal capsize in May, said the international jury's ruling in favour of Team New Zealand and Luna Rossa may exclude them from competing as they do not have a set of rudders that comply with the new class rule.
But Team New Zealand are prepared to offer Artemis dispensation to the class rule if it means helping Iain Percy and his crew get back on the water.
However, Luna Rossa aren't prepared to be so generous, with Italian skipper Max Sirena yesterday confirming they expect Artemis to comply with the class rule.
"At the moment we don't think we should give them dispensation for the simple fact they can measure on the class rule," said Sirena.
Artemis' chief executive Paul Cayard has previously said his team have a set of rudders that comply with the original class rule, and a set of rudders that meet the new specifications that regatta director Iain Murray sought to impose before he was gazzumped by the international jury, but none that meet a "third permutation" that Team New Zealand were pushing for.
Sirena believes Artemis can still comply with the class rule by using their older set of rudders and said he expects to meet the Swedish team in the Louis Vuitton Cup semifinals.
"I know they have a shorter rudder, which is allowable with the class rule," he said.
Murray isn't so sure Artemis would be able to get up an running without special dispensation.