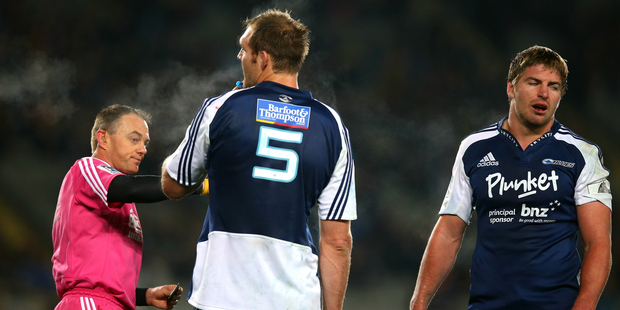 Under-fire Super 15 referee Chris Pollock has fronted with an appraisal which is not standard fare for his occupation.
He chose the job but also noted the rugby lawbook was riddled with regulations he would love to amend.
Pollock agreed he had not been at the top of his game in recent weeks, an assessment which received widespread affirmation after he issued red and yellow card decisions in the Blues final game with the Chiefs.
"I don't think I have been refereeing overly well in the last few weeks, last night will probably cost me a playoff game," Pollock said.
"You have a gut feeling when you walk off if you got the majority right or wrong but it was not a performance that was my kind of performance.
"You are like a player. You go through patches when you are in form and battling for form and when that's happening you need a bit of luck and sometimes that's not with you.
"On another day when you have luck, he [Kane Barrett] does not make contact with the head or the yellow card, those things, flashpoints do not happen."
Pollock ordered Barrett off in the 22nd minute after his assistant Jonathan White drew his attention to an incident at a ruck.
After calling for the big-screen review Pollock sent the Blues blindside flanker from the field.
"We are under a pretty strict edict by the IRB that boots on head are an automatic red card," the referee said.
"So watching the big screen I felt that No6, his boot came into contact with Craig Clarke's head. It is not for me to judge intent, it is for me to judge fact so that's pretty much what we ruled on."
Subsequently Pollock sinbinned Blues five-eighths Baden Kerr for slapping a ball down when he raced back in desperate defence, while Barrett was hit, post-match, with another citing for foul play two minutes before he was sent off.
The flanker was alleged to have stamped or trampled on Chiefs prop Ben Tameifuna, in an incident the citing commissioner felt met a red card threshold for foul play.
Pollock was about a metre from that incident and did not react. Match footage shows Barrett raising his left leg to dig towards the middle of the pileup.
That citing will be dealt with by Sanzar duty judicial officer Nicholas Davidson, QC.
Until Pollock said he wanted to speak about his decisions, the NZRU and Sanzar had offered a U-turn on the open and transparent policy they promoted at the start of the season.
Requests to speak to officials after the game were diverted because they had left Eden Park, and repeat inquiries yesterday bounced between Rod Hill, the high performance referees manager at the NZRU, the NZRU media liaison division and Lyndon Bray, game manager for Sanzar.
"It was my game, there were clearly some issues and I will front that," Pollock said.
Rival coaches Dave Rennie, John Kirwan and the victim, Chiefs skipper Clarke, were all puzzled when they were asked about the red card decision.
"I feel a bit for the man. If that was a club game in Taranaki you wouldn't look twice at that sort of thing so obviously I do feel for him. I know he's hurting about it," Clarke said.
Kirwan was more upset and kept reminding himself out loud not to flout Sanzar rules with comments which reflected poorly on the sport. Few at the ground would have understood the red card or Kerr's sinbinning.
The Chiefs committed a range of fouls under strain in their 22 and escaped any card violations. They put several high shots on Rene Ranger without any cards being issued.
The Chiefs' 26-16 victory and subsequent final round failure by the Bulls meant they ended as top qualifier for the playoffs while the Blues were consigned to six consecutive losses to end the season without a victory. A win for the Chiefs should have been inevitable once Barrett was sent off but they struggled to beat a Blues side who finished with real passion and defiance.
The Chiefs scored four tries to one but wayward goalkicking from Aaron Cruden and a general lack of cohesion kept the margin tight.
For all the Valiant work of Blues men like Angus Ta'avao, Ali Williams, Luke Braid, Piri Weepu and Frank Halai, the focus was on Barrett's ordering off.
Pollock understood that.
"You are damned if you do and damned if you don't and the bottom line is if our law book was tidied up and simpler it would make everyone's life easier.
"We cop it because we have to enforce the lawbook but it does not mean we enjoy that."
He enjoyed his work but did not enjoy having his name dragged through the media "when this sort of incident became headlines".