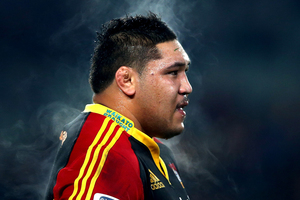 Two less than convincing performances before a week off and a home semifinal, this season is playing out just like last year for the defending champion Chiefs.
The difference this time is that they at least take a victory into their break. They didn't press home their numerical advantage in the 26-16 win over the Blues, but they did score four tries. Aaron Cruden's off night with the boot - he missed all four conversions, meant the final score wasn't as convincing as it could have been, but the Chiefs were guilty of taking the foot off the throat when Kane Barrett was dismissed.
Such hesitation could cost them in the playoffs, but, in terms of the table, they couldn't have done any better. The Chiefs finished on top with 66 competition points, two better than last year when they finished second after the regular season behind the Stormers.
They will need to re-discover the desire they showed in winning last year's semifinal against the Crusaders in Hamilton which set them on the road to the championship, but coach Dave Rennie and captain Craig Clarke don't think that will be an issue.
"We used this time really wisely last year and really had great clarity going into the opposition we had,'' said Clarke, who will leave for Ireland at the end of the season.
"Once you have a sniff of the finals things just change. There's a lot more excitement and it adds a different dimension to your rugby. It makes turning up to training after a long season that much better.''
Rennie added: ``We've got a wee way to go, but like Weka [Clarke] said, we're only two games away from winning a championship now and if you can't get excited by that then you might as well throw it in.''
All Blacks lock Brodie Retallick, a consistently excellent performer for the Chiefs, left the Eden Park pitch at halftime with a high ankle sprain and is a concern for Rennie.
Flanker Tanerau Latimer has a haematoma on his calf and was limping badly in the changing rooms afterwards, while No8 Matt Vant Leven took a knock to his head and neck area, but is likely to be fine.
Retallick is key for the Chiefs, who relied on prop Ben Tameifuna for much of their momentum last night. The Blues and the Crusaders have both shown recently that the Chiefs can be knocked off their stride if they are put under pressure at the breakdown, with Retallick one of the best in the country at clearing rucks.
- APNZ