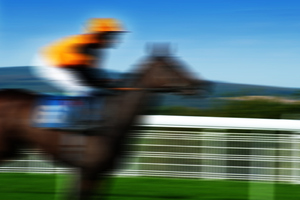 A few wise pre-race words to his rider Isaac Lupton from trainer Mark Oulaghan paved the way for Brushman to claim his second Wellington Steeplechase.
"When I was talking to Mark I said I might try and ride him a bit handier, but he said to ride him quietly and let him run his own race and he was right," the Waverley jockey said.
Lupton showed admirable patience around Trentham's unique figure eight circuit in yesterday's Grant Plumbing-sponsored feature and the lean son of Bahhare responded with another impressive show of stamina.
Brushman settled well off the early pace set up by the ruling favourite Rioch, but moved slowly into contention late in the final lap. He didn't falter under pressure or in the testing going and proved too strong.
"He loves it around Trentham and he felt terrific," Lupton said. "His jumping was really good and when we got on to the really heavy course proper that was the telling factor in the end. He's a lightly-raced animal and he doesn't take much racing."
Brushman won the Wellington Steeples in 2010 and finished runner-up last year behind Tom's Myth, who had been in receipt of two kilos.
The 10-year-old has been sparingly tried since by Oulaghan, who also owns the gelding, and was ready for a winning effort off the back of just a sole outing this winter when third on the course last month.
"He's quite a tall horse, but he's very light and doesn't take a lot of work," he said.
Brushman won by three-quarters of a length from the rising 14-year-old Solid Steal, who chased bravely, and Shooting Daggers was third ahead of Rioch. He freewheeled in front, but was found out from the top of the straight by the demanding 5500 metre trip.
Earlier, Gary Walsh feared history was about to repeat itself in his bid for Wellington Hurdles glory until a game Thatz David dug deepest to reward the doughty duo.
The Irish jockey has been ever present during the Wanganui gelding's jumping career and they had finished third in the event behind Waitaha Toa 12 months ago.
An open flat handicap winner on the Trentham course three starts ago, Thatz David took up his customary role of pacemaker and bravely repelled a stern challenge from last year's defending champion to win.
"He always hits a flat spot and when Waitaha Toa and Jonathan Riddell came up to us I thought here we go again," Walsh said.
The Stark South 7-year-old flew the final hurdle and drew clear to win by two and three-quarter lengths from Waitaha Toa and 2011 winner Honey plugged on to finish a distant third ahead of Aintree.
"He's jumping a lot better this year though, and he loves that Trentham mud," Walsh said. "He won pretty easily actually."
The only casualty was last year's Grand National Hurdles winner Wotabuzz, who lost rider Hayley Curran at the fence near the 800 metre mark.
Trained by his owner-breeder Anne Davies, Thatz David now has four hurdle wins to his credit - all with Walsh in the saddle - and has also placed twice in the Awapuni Hurdles.
And miserable winter conditions bring out the best in Matost, who revelled in Trentham's mud yesterday to put an end to a lengthy losing spell.
The Keeper gelding's last win had been in the 2011 Whyte Handicap and he returned to the scene of that triumph on Saturday to win Wellington's feature metric mile for a second time.
"The track had as much to do with it as anything else, he just loves it deep - the deeper the better," part-owner and trainer Mark Phillips said.
The 7-year-old, who is troubled by back and fetlock issues, has also taken well to a change in his training regime and could be seen out in a new role before the winter's end. "He's been doing some schooling and he's quite a powerful horse who jumps well," Phillips said.
Matost was ridden close to the pace by apprentice Miranda Dravitzki and maintained a solid gallop down the outside of the track to beat Karla Bruni and King Victor in the Ekraar @ Linwood Park-sponsored event.
NZ Racing Desk.