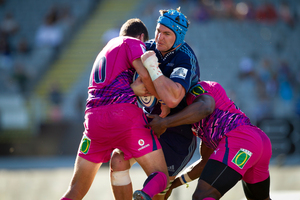 Blues coach Sir John Kirwan is livid with a controversial red card of flanker Kane Barrett that left his side up against it in their 26-16 loss to the Chiefs at Eden Park.
Barrett was shown a red card for stomping Craig Clarke's head just a little over 20 minutes into the match.
It left the Blues with 14 men for three quarters of the match and 13 when Baden Kerr was binned in the second half.
Kirwan says it was poor all around.
"Once again I thought it was an exaggeration. Look, on the screen you know he didn't mean to do it so a yellow would have been sufficient and it ruined what I reckon would have been a great game."
Clarke says it didn't even touch his head.
"I feel a bit for the man. If that was a club game in Taranaki you wouldn't look twice at that sort of thing so obviously I do feel for him I know he's hurting about it."
The win secures the Chiefs spot, with the Bulls settling for second after a 30-13 loss to the Stormers in Cape Town.
The Reds have defeated the Waratahs 14-12 and will now travel to Christchurch to face the Crusaders next weekend.