The Blues ended their 2013 Super Rugby campaign at Eden Park last night knowing they couldn't finish any lower than 10th. Gregor Paul looks at what coach John Kirwan has done well and not so well in his first year in charge.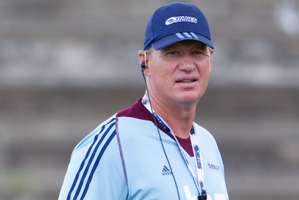 The Not so Good
Defence
Last year, the Blues conceded 430 points and this year, before last night's game, they had leaked 338. They no longer conceded tries off first phase and they had some memorable defensive efforts, most notably against the Hurricanes and Stormers in Auckland. But that's still an average of almost 23 points per game being scored against them and mid-to-lower table territory.
Set Piece
Neither the scrum nor lineout were consistently strong. The former was a problem for most of the season in that, at best, the Blues held their own. When they reached the semifinals in 2011, their scrum was a destructive weapon. Losing Charlie Faumuina to injury early didn't help but the Blues know this is an area they need to improve. It's much the same with the lineout, which was patchy all year - they need better all-round accuracy.
Arrested Development
While Kirwan played a major and effective role in developing Steven Luatua, Charles Piutau and Francis Saili he was less inclined to push other young players. Ofa Tu'ungafasi was effectively selected instead of Pauliasi Manu, yet the youngster was barely used. Malakai Fekitoa was another 'development' player who wasn't developed. That was strange as Ranger declared his move to France early in the season, meaning there was urgency in giving Fekitoa game time with a view to readying him for next year.
The Grind
The Blues started with two wins and the energy and dynamism that reflected their youthful nature. They had another surge in April that saw them beat the Highlanders, Stormers and Rebels, but they hit the wall in May and have been in free fall through the last third of the competition.
Super Rugby is a slog and the Blues will have to determine why they capitulated.
There's a range of reasons: the inexperience of the players, lack of genuine depth and inconsistent preparation.
As a legendary All Black who thrived in the test arena for 10 years, Kirwan is determined to educate his squad about the need to maintain their standards from week one to week 18: "We need to make sure we keep developing these young guys," he said recently. "They have to make sure they learn about consistency of performance and that it is a grind. We probably have not done well in the grind but they will learn that and the more exposure they can get to international rugby, the better they will be for us."
The Good
Restoring Pride
The hardest part to stomach of last season's schemozzle was the lack of pride, energy and conviction with which the Blues too regularly played. There was no sense of pride. For most of the season, the Blues were disparate individuals, 10 of whom decided early in the campaign they would be leaving and at least the same number again gave the impression they hoped to be leaving.
Kirwan connected the players with the franchise. He wanted the team to be proud to be based in Auckland and for the culture to reflect the city's idiosyncrasies. A barista was hired to service the café at the training ground, as what could be more quintessentially Auckland than coffee? He ditched the notion of uniform No 1s and instead players could express themselves in post-match attire reflecting their eclectic tastes. He bought a Fiat Bambina to be driven each week by the player deemed to have done the dopiest thing off the field. He restored pride in the jersey, and that sense of value and connection has been evident in their performances. While they haven't won many more games than they did last year, they have played with more commitment and urgency, more expression and flair.
Promoting Youth
There were nine new All Blacks last year, three of them - Sam Cane, Brodie Retallick and Beauden Barrett - were New Zealand under-20 contemporaries of Luatua, Piutau and Saili. The latter three weren't original picks for the Blues last year and Saili couldn't even make the Auckland squad. One year on, all three were in the All Black squad for the June tests, Luatua and Piutau making their test debuts. Kirwan has recognised talent, promoted it, nurtured it and improved it. He set out to build and deliver more All Blacks - and he has.
Renovating Rene
Rene Ranger was a shadow in 2012 - he was overweight, out of touch and his confidence shattered by a court case that was continually postponed and by coach Pat Lam's constant mind-changing which saw Ranger bounce between wing, centre, the bench and not even in the playing 22. Kirwan asked Ranger to choose what he would rather be. For the most part of the first half of the season, he stuck to picking the Northlander in his preferred role of centre and asked him to lead the backline. Stability and leadership responsibility has enabled Ranger to get fitter, faster, more accurate and proficient at turning defence into attack with tackled ball turnovers. He was recalled to the All Blacks.
Bonus Point Kings
The Blues finished the season with more bonus points than anyone else, effectively adding three extra wins. The system has its critics but bonus points are there to be grabbed and through a combination of flair, creativity, ruthlessness and pride, the Blues were able to take something almost every time they played.
Off-Field Discipline
Kirwan was fair and consistent in his handling of indiscretions. George Moala (twice) and Saili both had to be stood down for incidents involving the police. New Zealand under-20 star Lolagi Visinia was also dropped from the bench to play the Rebels after turning up to the last training session late.