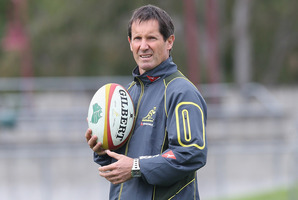 It's been a rough week for coaches Robbie Deans and Jamie Joseph and I have a bit of sympathy for both.
Much has been made of the clause in Joseph's contract that apparently says he can't be fired for his team's on-field performance. When you see it written down like that, it looks like they've given him a bit of a cakewalk.
The reality is that Joseph went there a couple of years ago, when Otago and Highlanders rugby wasn't in very good shape. "Can't be fired" looks different when you translate it to "needs a couple of years to get things right while rebuilding the franchise."
That's what we are really talking about, though it must be said Joseph has had a tough time of it this year with players like Ma'a Nonu, Aaron Smith, Andrew Hore and others not really producing the goods at franchise level - and who looked much better when they turned up to the All Blacks. You can lay that at Joseph's door, fair enough, but both he and Deans have suffered at the hands of players who did not deliver on their promise.
Joseph has also brought on some good young players - the likes of loose forward Elliot Dixon, hooker Liam Coltman and loosie TJ Ioane have made good strides under him this year. The problem has been with certain senior players. But he hasn't been on his own with results this year - I'd say Mark Hammett at the Hurricanes hasn't had such a crash-hot season either.
Deans also copped it from players. You can argue he made mistakes and fair enough. But, in looking at Deans' tenure with the Wallabies, any objective analysis has to concede that he suffered from a raft of issues that other coaches didn't have to face.
Many coaches have to deal with a problem player - someone who might be gifted but who brings discipline or behavioural problems that can potentially derail a squad. The Crusaders have made a virtue of this over the years, bringing down misfits and turning them into jewels. I'm thinking Ron Cribb, Norm Berryman, Ali Williams and others.
But they only ever took on one of those problem kids at a time - Zac Guildford being the latest. Robbie had four of them to deal with: Quade Cooper, James O'Connor, Kurtley Beale and Digby Ioane. If some of that lot weren't getting drunk, they were fighting among themselves or flouting team discipline. One, you can handle. But four?
Add to that the fact that Robbie was getting constant grief from eccentric once-was types like Alan Jones and David Campese and for being a Kiwi in charge of an Australian outfit. Australian rugby is no easy environment. Just ask former South African coach Jake White. He sounded pretty annoyed when interviewed; he was tapped on the shoulder, told to apply for the job and then jerked in favour of a local. Quade Cooper once called the Wallaby environment "toxic". I bet White agrees now.
Also factor in that Deans never got much support from the Super 15 franchises. The shape that some Waratahs players were in when they made it to the Wallabies - I am talking fitness and skills - was a disgrace. New Wallaby coach Ewen McKenzie will have been quietly undermining Deans too and it will be interesting to see how he does with the team now.
Personally, I think McKenzie's got a bit to prove. He took the Waratahs to two finals in Super Rugby but didn't win it. He was at Stade Francais for two years before getting the flick there. Fair enough, he won the 2011 Super Rugby title with the Reds. Now he has to deal with many of the problems that even the best coaches struggle to overcome: a lack of depth and a lack of skill in key areas, plus a fifth franchise that has diluted Australian rugby and brought a losing mentality to bear. Typically, a new coach means a revival but, long term, let's see how McKenzie does. I'm not predicting great results.
As for Deans, I am sure he will pop up somewhere else. Clermont are looking for a replacement for Vern Cotter, for example. Whatever happens, I hope he gets a chance to prove himself better than how things ended up with the Wallabies.