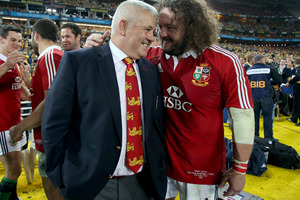 Hardly worth the bother of a contestable process in 2011, the All Black coaching job could be fiercely contested after the World Cup in 2015, with Warren Gatland, should he fancy it, presumably in the forefront of any challengers.
Dave Rennie and his assistants at the Chiefs present as a strong team, while Todd Blackadder could have a couple of Super Rugby titles to his credit and believe that he's ready to make the jump. Then there is John Kirwan, a former All Black with ample international experience.
If he can deliver revolution at the Blues, he'd be well placed. Vern Cotter and Joe Schmidt are the wild cards - the former will take over as Scotland head coach next year and Schmidt has started his new role with Ireland. Probably both need to build their international experience, yet if Ireland make the semifinals in 2015, that might persuade some Schmidt's ready to challenge for the top job in New Zealand.
But Gatland is the one with the most compelling case. Installed as Ireland coach when he was unfeasibly young, he put the drama of an unfair dismissal behind him to bounce back and win the English Premiership and Heineken Cups with Wasps.
He landed an NPC title with Waikato in 2006 before taking the Welsh job, where he won the Grand Slam in his first campaign.
A World Cup semifinal, another Grand Slam and now a Lions series have followed and there isn't a coach in world rugby who has won the same range of silverware.
The modern talk focuses on environments and cultures, but coaching, ultimately, is a results business and Gatland delivers winning rugby teams. He has found a special group of players in Wales and will return to the Principality after his short break at Waihi Beach and continue building his team into potential world champions.
He'll be 51 by the next World Cup- five years younger than Sir Graham Henry was when he left Wales and presumably far too young to contemplate retiring. Unquestionably Gatland will have multiple options to consider in 2015 but the lure of the All Black job has a strong pull.
How strong will depend on the intentions of incumbent coach Steve Hansen. He could have an almost irresistible case to carry on.
The assumption can't be made that it will be time for him to move on regardless of events between now and then. His longevity with the team can be rendered entirely irrelevant, as he himself said in May 2011 when he revealed his intention to challenge for the head job later that year.
"As long as you're prepared to keep growing and developing as coaches, as management staff and players," he said by way of disputing that after eight years as an assistant coach, he'd have done his dash.
"You're not going to turn round and say you don't want Dan Carter because he's been there for nine years, or Richie McCaw. What you want is for these people to keep growing and coaches are no different."
Hansen, though, may feel he's had enough of the travel and time away from home. It may even be that he's able to get out on top, as the first man to coach a side to consecutive World Cup victories. Or, if the campaign ends in disaster, he may have little choice but to walk. There are so many unknowns.
The only certainty is that there are going to be considerably more credible coaching candidates in 2015 than there were in 2011.