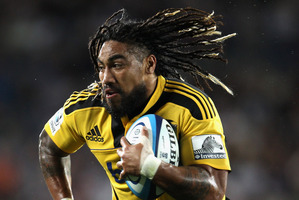 There is a commonsense solution to the problem that is Ma'a Nonu - mediation between him and Hurricanes coach Mark Hammett to pave the way for a return to the capital.
Nonu's heart never left Wellington when he did in 2011. He would love to return to the Hurricanes; they are his team, the capital is his city.
The Hurricanes, though they might never admit this, need him as much as he needs them. They don't have anyone on their books remotely capable of making the sameimpact, fulfilling the same critical role of taking the team over the gain line and behind opposition defences.
The problem is that for Hurricanes coach Mark Hammett to take Nonu back, there would have to be major reassurances about the 30-year-old's willingness to conform to team culture. There might also have to be a bit of pride swallowing on both sides - an honest, frank and decidedly uncomfortable clearing of the air.
It's all a bit school disco - Nonu on one side of the hall, the Hurricanes on the other. They keep looking,hoping, but neither party can make the first step to cross the floor and ask for the dance.
There really isn't any other move for Nonu. He's hardly thrived at the Highlanders and can't really see how that will change next year. Many of the side have already shipped out to new pastures and Nonu's relationship with coach Jamie Joseph is a tad strained. It's never healthy for either party when a player isn't keen about staying to force them into it. Besides, Shaun Treeby could be an intriguing prospect if he's given a full season of regular starts at second-five.
A return to the Blues is less likely again, in spite of Sir John Kirwan's assurance that he would consider it with no hard feelings. Nonu never settled in Auckland; his relationship with the Eden Park fan base is toast and the last thing young Francis Saili needs now is for a world-class second-five to arrive and keep himout of the team.
The Chiefs are a non-starter - they have all the talent they need and their candle still burns for Sonny Bill Williams. The Crusaders say Nonu simply isn't a player on their radar and that's entirely believable.
So ... it's not just that the Hurricanes are the right fit, they are the only fit. There will be truth and validity to the inevitable claims that it's a terrible look for Nonu to make his fourth move in four seasons. Even in the highly mercenary, professional age, such a lack of loyalty is unusual. Not so easy to support will be the idea that he doesn't care about Super Rugby; that he's only capable of playing his best for the All Blacks.
Nonu's form never fluctuated so wildly when he was with the Hurricanes between 2003 and 2011. He was often a slow burner - quiet in the first half of the season, before settling into better form in the home run. Plenty of his fellow All Blacks followed similar patterns.
Since he was forced to shift after being sacked by the Hurricanes, there have been some mitigating circumstances to explain his lack of form. Nonu arrived at the Blues straight from Japan and 18 months of continuous rugby. Not only was he about dead on his feet, the Blues were a shambles and who could have played well in that team?
The Highlanders have been equally awful this year and, other than Ben Smith and Kade Poki, none of them can really feel good about their individual form. But probably the bigger reason Nonu bombed in Super Rugby this year and last is that his heart wasn't quite in it; he'd never got over the hurt and shock of being dumped by the Hurricanes for reasons that have still not been satisfactorily explained.
Hammett was never explicit, only hinting he didn't like Nonu's attitude, lack of discipline and respect for management. It was Hammett's first year at the Hurricanes and he wanted to strip out what he thought was a rotten core and build a new, inclusive culture. He's largely done that - the character and discipline of the team are clearly improved and surely now Nonu could be taken back and assimilated into the new way of doing things. He manages, after all, to play superbly for the All Blacks year after year without being the merest hint of trouble off the field. If they can manage him so effectively, why not the Hurricanes?
Having stagnated this year - a result, captain Conrad Smith said, of believing their own press - the Hurricanes need to find ways to advance their game in 2014. No matter the history or personal feelings, there will be no better way for them to improve than to sign Nonu and ask him to own the gain line.