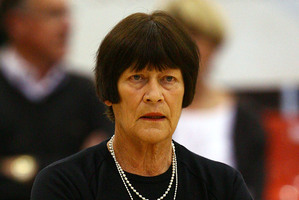 Robyn Broughton looks likely to sign on for a third season with the Central Pulse.
The veteran coach has masterminded a major reversal of fortunes at the Wellington franchise, lifting them from under-achievers to contenders, but her future has been the subject of some conjecture.
Broughton's decision has to a large extent hinged on the ability of the organisation to retain senior players like Liana Leota, Donna Wilkins, Joline Henry and Katrina Grant and it is understood most of the key players are set to return.
Leota is in England (husband Johnny Leota plays rugby for Sale) but is believed to be returning to Wellington and has also made herself available for the Silver Ferns.
The 35-year-old Wilkins, who has three children aged under five, has made no firm commitment but is said to lean towards another season with the Pulse.
Henry has committed to stay in the capital after an injury interrupted her campaign and captain Grant is also almost certain to stay.
There is a sense of unfinished business at the Pulse. Despite having the best season in franchise history - they won eight games compared with just 10 across the previous five seasons - there was a sense of what might have been.
They finished just two points outside the play-offs and were left to rue close losses to the Firebirds, Magic and Mystics. The defeat against the Auckland side was particularly galling as it was the only victory the Mystics managed this season.