A change in routine has helped stave off boredom for single sculler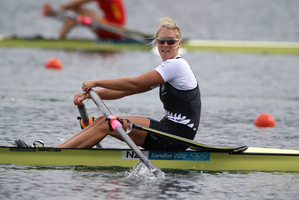 At Napier Girls' High School, rower Emma Twigg used to enjoy belting out a bar or two of Jerusalem.
As she faces a pivotal, potentially career-defining call in her career, the hymn's verse: "I will not cease from mental fight, nor shall my sword sleep in my hand" seems particularly applicable, especially if you replace sword with oar.
Twigg is considering a conundrum: Does she persevere in the single sculls, the boat in which she has coveted winning an Olympic gold medal since becoming junior world champion as an 18-year-old in 2005, or push for a move into the sweep-oar pair or double sculls?
As Rowing New Zealand build their stocks across the entire programme for the Rio de Janeiro Olympics, there is no guarantee of a place in either alternative boat.
New double sculls combination Fiona Bourke and Zoe Stevenson won their opening World Cup in Sydney while Olympic bronze medallist Rebecca Scown and new partner Kayla Pratt earned silver, making their international debut together in the World Cup at Eton Dorney.
The full New Zealand team races the final World Cup in Lucerne on the Rotsee this weekend.
Twigg is intent on giving the single skiff another go this season and seems certain to be given a crack at the world championships in South Korea starting August 25.
The 26-year-old contemplated her future after fourth place at the Olympics.
Since entering the elite single sculls ranks in 2007, her results at pinnacle events before London were sixth, ninth (Beijing Olympics), fourth, third and third.
Topping the podium in one of rowing's most competitive classes has proved a stretch.
Twigg took time out after the Olympics to travel and even balanced rowing with a summer office job as an ANZ Olympics ambassador.
Her return to elite competition came with victory on Eton Dorney in rough conditions at her first World Cup this season. However, Twigg was the only women's sculler in the field who had raced the Olympic final at the same course. It was the second victory in her World Cup career; the first was at Lucerne in 2011.
She finished runner-up to Olympic champion Mirka Knapkova at the Henley royal regatta last weekend and second to Australian Kim Crow at Amsterdam's Holland Beker event.
Both results showcased an indomitable spirit. In the latter event she beat Knapkova and former Olympic champion Ekaterina Karsten.
However, Twigg's hinted at a desire for change.
"I haven't ruled out trying to make another boat class in the next couple of years but there is unfinished business for me in the single. I didn't want to finish where I left off in London. [At the moment] it's more about proving I'm better than that result."
Twigg joined the New Zealand elite programme in the women's sweep oar eight as a 19-year-old in 2006. Last summer talk centred on Twigg wanting to join Scown in the women's pair following Juliette Haigh's retirement.
She was coaxed back into the single after making some training trade-offs with more cycling and high-intensity work - including weights - to stave off the ennui of rowing up and down Lake Karapiro morning and night six days a week.
"We'll see what happens," Twigg says about a possible switch.
"The main goal of Olympic gold in Rio doesn't change. I'm open to pursuing anything that will make that a successful pathway, but I can't see it being a bigger boat than the double or the pair. I'm enjoying the single again at the moment and having a great time on tour. The vibe is great."