Five-race series an ideal way to build up fitness for adidas Auckland Marathon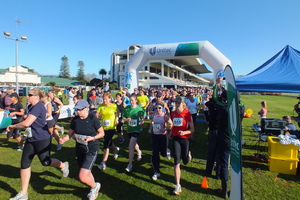 For many, taking on the adidas Auckland Marathon or Half Marathon for the first time is a daunting prospect.
There is always the fear in the back of newcomers' minds that screams: "Am I going to make it?"
The perfect way to answer that question ahead of race day is competing in the Unitec Run Walk Series around Auckland.
The five-race series is designed with the Marathon and Half Marathon runners and walkers in mind. It builds incrementally in distance at five central locations across the city as it counts down to race day on November 3.
We caught up with the new race director, Garry Butler, to talk about the annual winter series that is the ideal preparation for the biggest marathon in New Zealand.
Q: What are you looking forward to most about this year's series?
I'm looking forward to meeting and getting to know some of the runners and walkers that make up the Unitec Run Walk events and learn what they think of the overall event experience. Having organised run and walk series previously in Nelson and here in Auckland, I look forward to the stories of why people have chosen to get out, get into the event and get themselves fit. Sharing their stories on Facebook has the ability to inspire others to give it a go. The series is designed for runners and walkers of all abilities, including kids, who are in training for any of the adidas Auckland Marathon events.
Q: Why is it important to participate in lead-up events in preparing for a half marathon?
Preparing for a half marathon involves some solid training and as your training progresses it's important to become race fit, ensuring you are ready both physically and mentally to meet the Half Marathon challenge. The best way to become race fit is to race, and what better way to get race fit than to race in events that have been designed specifically to progress your race fitness towards an Auckland Marathon event. Whatever your goal, if it's doing a PB [personal best] to just getting to the finish line of the Auckland Marathon, these events will give you the opportunity to prepare yourself. You will meet like-minded people with the same goals as you, perhaps to finish the Auckland Half or Full Marathon for the first time, or people who have been there and finished, who will have a story to tell.
Q: What is the best advice you can offer people doing the Marathon or Half Marathon for the first time?
The most important thing is not to overtrain, to stick to your planned training schedule and don't be tempted to train when you should be resting, as most of your improvement will come when you are resting. This should ensure you get to the start line healthy, fit and - most importantly - fresh. On the day just enjoy the event, relax and run within your abilities, there will be plenty of time in future events to extend yourself. Your first half or full marathon is all about getting to the finish line. Keep yourself well hydrated during the event by making good use of the water stations along the way.
Q: Does it inspire you to see weekend warriors fitting in work and taking on things like the Auckland Marathon or Half Marathon?
Absolutely! Having been a competitive runner myself for many years I know how much training it takes to complete a marathon. It takes sacrifice, planning and hard work to achieve and it's not easy when we have so many other commitments and obstacles to overcome. I take my hat off to them. Remember also most of their training for Auckland Marathon is done in the depths of winter when most of us are huddled up around the fireplace. They are out there pounding the pavements in the cold wintry mornings and evenings, day after day. What drives them? Is it just to cross the marathon finish line? Is it to better their own PB or are they running to raise funds for our new Golden Charities challenge? Whatever it is, they are an inspiration. They are up off the couch, off the fence and into it.
Run Walk timetable
Unitec Auckland Run Walk Series
Event 1: Tomorrow Sunday, July 14
Unitec, Mt Albert
Event options: 2.5km for kids, 2.5km, 5km, 7.5km, 10km
Event 2: Sunday, August 4
Ellerslie Racecourse
Event options: 2km for kids, 5km, 10km, 15km and 21.1km
Event 3: Sunday, August 25
Narrow neck, Devonport
Event options: 2km for kids, 6km, 12km, 18km and 24km
Event 4: Sunday, September 15
Highbrook Business Park
2km for kids, 7km, 14km, 21km and 28km
Event 5: Sunday, October 6
Barry Curtis Park, Botany
2km for kids, 8km, 16km, 24km, 32km
For more information visit: www.runwalk.co.nz