This season the Blues allowed the Herald's rugby writer Wynne Gray into their war rooms to see how they operate. In the second and final part of the series we count down to their final match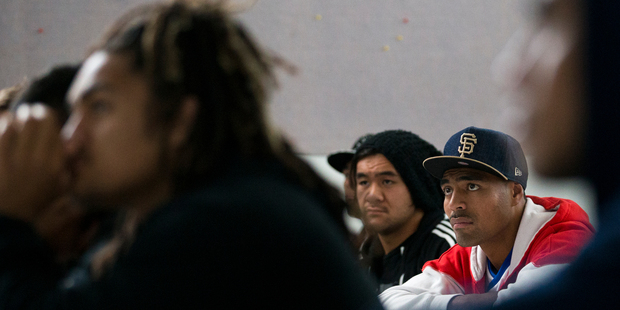 After a one point win against the Stormers
"I think we are getting a little too predictable," coach John Kirwan says. "We have to work out how to get some more excitement going on and off the field. We need to see that in the way we express ourselves on the track."
Kirwan is perplexed by the Blues' lack of sting after their second bye. It was the same after their initial bye, when they lost to the Waratahs, and Kirwan has to find a way of getting his side through these critical moments.
He points to the final scrum against the Stormers. It was the Blues ball and they're ahead by a point.
"We have to close it out and we can go home. But what happens? Something similar to the Reds. We had a lineout there and a scrum with the Stormers and missed both. It is about decision-making under pressure.
"The next game against the Rebels will be about dealing with the expectation you will win. So how do we raise our enthusiasm levels," Kirwan asks.
After the 36-32 win against the Rebels and getting ready to play the Crusaders once more
Kirwan begins with a tale about one of his best mates Craig Green, who called him a "f****** loser" for two years from 1983 until Auckland took the Ranfurly Shield from Canterbury.
"They have taken the mantle from us. Does anyone know the last time we won down there? It was almost in the days of black and white TV," he says.
"It doesn't get any bigger than this. They are the biggest a******** in the world because they are so good at what they do. They will challenge you for every second, every minute of the whole game.
"This is the reason we play, it will be a full house and they will be coming at you. I love that s*** and if it doesn't excite anyone they should hit the door.
"This week's preparation has to be your most intense and your most relaxed," he demands as he asks Keven Mealamu for his assessment.
Mealamu thinks the Crusaders will see the Blues tight five as a weakness and takes offence at that.
Kirwan continues that theme.
"They will be saying they are the All Black lineout and scrum. They will talk about kicking it downtown and putting pressure on us.
"What we need to do is throw stuff at them they are not ready for. We have to put it back in their faces. We also want to isolate Robbie Fruean because he will be focusing on Rene Ranger and he has a tendency to jump out of the line to do that.
"We are looking to play an organised disorganisation."
Henry nominates Fruean as someone to tease on defence.
"If we play a flat ball down the blind, that will embarrass him because he defends there. He has got to be a big target for us."
After the 3-22 loss to the Crusaders
Henry begins the post-mortem by asking something he never has before.
"If we take the scoreboard out of the equation, how did we go?
"On the stats sheet we got the better of them on attack and defence and I don't think we are far away. We have to be positive because we played a lot better than the scoreboard indicated and if we had really put it together, we could have won.
"We need to perfect what we didn't do well this week."
Kirwan's spiel is that the Crusaders strangled the Blues, who eventually helped with that suffocation. He continues to tout their top six calibre. But the tactical kick-chase approach has to sharpen, there is not enough heat from the chase line.
The Crusaders exert pressure, he points out, when Ryan Crotty kicks it 40m and it dribbles out and the crowd goes wild because they are putting the Blues under pressure with an attacking lineout. That's the sort of focus the Blues had to adopt.
Forwards and kicking coach Mick Byrne steps in.
"When teams are defending against you, they all seem to head for the edges because they fear you out wide. They rush and are worried we will break them out there. They have their fullbacks across the field and the last thing they expect us to do is something else. Let's do that and maybe use our kicking as an alternative weapon."
Henry notes that the bulk of left-foot kickers in the Blues mean they play well from right to left. When they go the other way they can be vulnerable. He asks about changes and more kicks from Piri Weepu at the base.
Loose forward leader Luke Braid likes the individual work in their systems but wants more snap and intensity.
"We have to get off the line quicker and become more dominant in the tackle, we are going a bit too much at one speed," he says.
Kirwan wants the Blues to hold the ball more and test their next opponents, the Brumbies, with repeat phases across the field. They would train that more so it felt normal.
"This year when we have lost we have learned very quickly and we need to do that this week. We are a top-six team but we need to get to the top four and to do that we have to find balance. We have not had the right intensity for a while, it feels like we are doing well but we have not quite mixed it up.
"How do we do that? We will train it, we will do 15 rucks instead of four like we have been doing, we will get some passes away and get excited."
Everyone had to raise their voice, add some chatter to boost the team direction. The season was in the balance, the Brumbies led the competition and this was a real chance for the Blues to put down a marker. No one in the room should lack any confidence but they had to lift their intensity to match the Brumbies.
"We are this far away," Henry said squeezing his thumb close to his forefinger. "The stats are good. We cannot lower those, we don't need to do that, so I probably should not have said that statement, so I will withdraw it," he mutters as the room cracks up.
"Be positive and be aggressive like Braidy was saying. We have a good pack, good structures, good communication, no holes, good stats. We just have to up the aggression.
"What does that look like? It looks like a bit more line-speed and hitting with your shoulder rather than your chest.
"The attack looks like people running quick. We have had a lot of footy and a lot of you have not experienced much at this level, ever in your lives. What it looks like at championship level is people running quick, getting round the corner, getting off your arse and running quick all day."
Too many in the Blues were catering for the long campaign by running at five-eighths and to win the championship and win against the Brumbies, everyone had to be at eight-eighths. Everyone had to think about running over the ground rather than through it.
"Is that hard?" Kirwan inquires. "It's a big week and a little disjointed with eight of our boys away [All Black camp] but everyone in this room has to step up and get into it with our game plan. We have to deliver an intensity which will scare people."
After 13-20 loss to the Brumbies
Blues players held their own meeting where Williams and Braid spoke about the side's lack of discipline and patience to become a strong side like the Crusaders and then apologised to their coaches.
The Brumbies brought a similar style and had choked them.
While that did not suit the Blues' mentality, Kirwan says they must learn those basics. He appreciated their apology and talks about their soft underbelly while he also promises to talk to referees boss Lyndon Bray about some issues.
"We feel we are picked on, but I can't say that. All I can do is send my thoughts and clips to the Sanzar dropbox. For some reason people don't like us, the refs don't like us. It is either Ted or me or someone, but they see us as a bad football team because they are always looking at us.
"So we have to be aware of that and be squeaky clean. We can't let it frustrate us and we need to learn to play in all sorts of weather to strangle other teams."
After defeat to the Highlanders and two more in South Africa
Kirwan addresses his side about their final match. He asks if there is anything they do not understand about the game plan for the Chiefs, any lineout calls or back moves.
"All good, no excuses. Our pride lies in our execution. This is a test of eight months' work, a test of this group. Let's send a warning for next season, go out there and explode."
Blues' second half
May 3 beat Stormers 18-17 (h)
May 11 beat Rebels 36-32 (h)
May 18 lost Crusaders 3-23 (a)
May 25 lost Brumbies 13-20 (h)
June 1 lost Highlanders 28-38 (a)
June 29 lost Sharks 20-22 (a)
July 6 lost Cheetahs 13-34 (a)
July 13 ? v Chiefs (h)