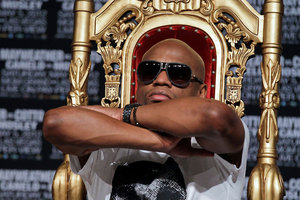 The sporting week in numbers compiled by APNZ.
This entire column could be dedicated to Australian Ashes hero Ashton Agar, but perhaps the most telling stat is that the 19-year-old became only the second debutant to bat at No 11 and top score in a test innings. Unlike Agar's near-ton of 98, though, Sri Lanka's Jayantha Amerasinghe made just 34 when he top-scored in 1983/84.
3 - Agar and Phil Hughes' 10th-wicket partnership of 163 is the highest in test history, surpassing the 151 put on by New Zealand's Richard Collinge and Brian Hastings in 1973. The Australian stand is also just the third time the final wicket partnership has more than doubled the team's total.
666 - Southern Steel shooter Jhaniele Fowler took this year's ANZ Championship by storm and the 1.98m Jamaican finished the competition with a record 666 goals. Fowler, 23, was named today (Fri) as the league's MVP after also being named the competition's best new talent during the week.
88,000,000 - After a highly-publicised decision-making process, free agent Dwight Howard agreed to a four-year US$88 million ($112m) contract with the Houston Rockets. The 27-year-old spent last season with the Los Angeles Lakers after playing his first eight years in the league with Orlando.
15 - When Michael McGlinchey was 15-year-old, he turned down a contract offer from Sir Alex Ferguson and Manchester United. More than a decade later, the All Whites' midfielder will get a chance to face the Red Devils after being named in the A-League All Stars side playing United next weekend.
6,400,000 - For Floyd `Money' Mayweather, renowned for his expensive taste, it's all about having selection. The undefeated boxer posted a picture on his Twitter page this week showing off a watch collection worth US$6.4 million (NZD$8.2m), writing in the caption, ``And this is just one case.''
102 - Blues' captain Ali Williams will play his 102nd and final game for the franchise when he takes the field at Eden Park against the Chiefs on Saturday night. Williams, who has started all 16 games for the Blues this season, will head to head to France following the season to take up a contract with Toulon.
12 - Despite having 12 years left to run on his 15-year contract, New Jersey Devils ice hockey payer Ilya Kovalchuk has decided to retire from the NHL. The 30-year-old Russian was due to make another US$77 million ($98m) but decided to leave the league and will likely play in his homeland.
1000 - Fewer than 1000 players remain on day three of the World Series of Poker's main event in Las Vegas. The US$10,000 ($13,000) buy-in event saw 6352 people pony up for the tournament. The winner will receive more than $8m and a coveted bracelet.
30 - There are 30 NBA players across 12 teams who could have their contracts ``amnestied'' during the next week. Under the NBA's complicated collective bargaining agreement, teams can waive the contract of one player they had on their books prior to the start of that season.
- APNZ