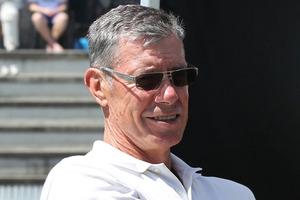 New Zealand Cricket moves into a slightly modified era today, with board ratification of an amended constitution.
All deeply unsexy stuff designed to challenge the most imaginative headline writer, but for chief executive David White and chairman Chris Moller, it marks another step towards redeeming the game in the eyes of stakeholders.
NZC can look back on the past few months - since the Taylor Affair at least - with a small sense of satisfaction.
The game looks to be commercially sound and New Zealand has won two one-day series against top nations away from home. There was a galvanising home series against England, though the test performances away against the same team were miserable.
All told, baby steps are being taken in the right direction.
But there's still a large boil that needs to be lanced; a particularly Australian type of festering sore.
John Buchanan's ongoing employment as director of cricket is a continuing embarrassment for New Zealand Cricket.
Multiple sources have confirmed to the Herald this week that Buchanan has no relationship with coach Mike Hesson or White. Given Hesson is directly responsible to Buchanan and the former Australia coach answers to White, it is an untenable state of affairs.
About the only thing Hesson has in common with his predecessor John Wright is an antipathy to Buchanan. For Hesson, the path towards consistent high performance is meticulously planned and full of detail. For Buchanan it's about big ideas, the more left-field the better.
These two men are never going to be marking their run-ups in the same spot.
It's difficult to gauge what White truly feels as he is duty-bound to hand out platitudes, but it is safe to assume he views Buchanan's tenure as a hangover from the Justin Vaughan days.
Unfortunately for White, Vaughan signed Buchanan up to a fixed term that doesn't expire until after the 2015 World Cup. That's awkward. As marginalised as Buchanan is, he will not be a hurry to seek more satisfying employment while the cheques keep rolling in.
So NZC has two options: keep Buchanan in a broom-closet to the side and hope he doesn't make any noise while his contract winds down; or pay him to go, which, with 18 months left on his contract, means they're not going to see a lot of change out of $400,000.
Like a ball in the corridor of uncertainty, NZC have been indecisive when it comes to playing Buchanan.
Now is the time to get on the front foot.