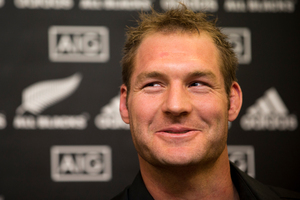 The Blues have begun their search for locks and captain Ali Williams is sure that hunt will turn up some fine talent for next year's Super 15.
He points to one of his Chiefs rivals tomorrow, Brodie Retallick, as an example of the rugby ability which can be found and nurtured by the strong coaching teams in New Zealand.
Two years ago, Williams said, people were asking questions about Retallick's pedigree and now they were lauding him as one of the best in the world.
"We have the talent in this country to find someone super special and turn them into a superstar," the Blues captain said.
The Blues need at least two lock replacements next season with Williams, former test lock Anthony Boric and All Black three-quarter Rene Ranger leaving for contracts in Europe and Japan.
Williams will team up with Springbok rival Bakkies Botha at Toulon.
"We have played 10 years trying to bash each other's heads in and now we will try to do it against the opposition. I am nervous and have to prove myself again," said Williams.
It was time to move on, a decision coach Sir John Kirwan endorsed. The lock had nothing more to prove. He had helped the Blues enormously and this was a chance to broaden his life even more.
"This franchise will always be something special," said Williams. "It is the right call. I've had my stint. I'll miss the competitive world in New Zealand rugby and the style we have."
Kirwan has made four changes for his side's final match against the Chiefs tomorrow at Eden Park, including a debut for national under-20 left wing Lolagi Visinia.
When this week is done, Kirwan will ramp up his search for players to fill the vacancies.
He felt Benji Marshall was genuine in his interest in the Blues and was not racheting up his price at Balmain, while he was chasing Beauden Barrett as well. James O'Connor was not an option because he was ineligible for New Zealand and more of an outside back.
If Ma'a Nonu wanted to return, that would be fine; there was no bad blood.
"We said our piece at the time and we have caught up since. I don't think he will look here but I will not close the door on anyone. It is important to put the franchise first," Kirwan said.
He had filled 17 places this season but the Blues' biggest void would be at lock.
Tomorrow was all about pride and finishing the season with an exceptional performance and if that occurred it would be a step in the right direction for next year.
Kirwan and his players had learned a great deal this season about the Super 15 being a marathon, not a sprint.
"We got out of the gates very fast then during the grind we needed to work a bit harder and win some of those tight games," he said.
Defeats by the Waratahs and Highlanders cost the Blues dearly.
New All Black Steven Luatua was out of rugby for about a month with shoulder damage and Chris Noakes, Culum Retallick and Albert Nikoro were also injured.