We all see what Super 15 sides produce on the field but it is rare for any outsiders to be allowed into their inner sanctum as they plan and discuss their work and their next challenge. This season the Blues allowed Herald rugby writer Wynne Gray into their war rooms to watch how they operate. In the first of a two-part series, we chronicle the first half of the season.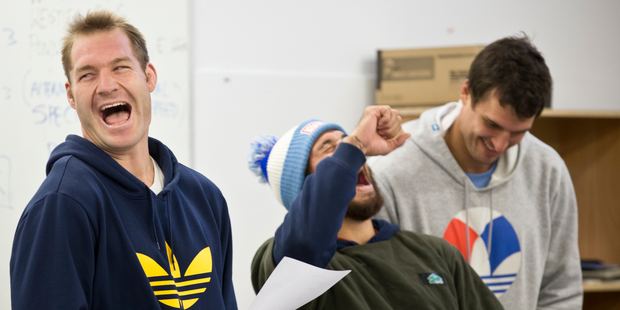 Pre-season the Blues' mantra is set. "Better Never Stops" is the slogan plastered around the walls at their headquarters in suburban Pt Chevalier. Coach John Kirwan talks about the "mongrel dog" attitude he wants and how important it is to stick with their systems.
"No one will handle us when we get it right," he emphasises to his group.
There is a touch of evangelism about Kirwan as he speaks about winning back supporters with their rugby, filling Eden Park and showing investors that the Blues are a side to support. They usually meet on a Monday to digest their last game and settle on how they need to deal with their next Super 15 rival.
Before the season starts, Kirwan reveals young outside back Albert Nikoro has been targeted by the injury-hit Chiefs but decides to stay, while captain Ali Williams has broken his right thumb but will play.
All the talk is aimed at playing with a high tempo and making strong decisions about space, while Williams talks through plans on how to rescue difficult situations.
First game away to the Hurricanes, won 34-20
Now it's the first game at Eden Park against the Crusaders. Express yourselves, Kirwan implores while he cautions them to remember their basic framework.
"Let's get excited, you have worked hard and we deserve what we get," he says.
After the 34-15 win against the Crusaders
A review shows the experience of the coaches as they balance the victory thrill with the lessons from the match. It's time for a role reversal with Graham Henry the good cop and Kirwan the bad cop as the pair deliver their appraisals.
Henry flicks through some video clips where he asks for better tackle quality. "Have we got a contract on that?" he asks the room. Culum Retallick is applauded for sacking Andy Ellis; Francis Saili and Rene Ranger for their turnovers and decisions; Frank Halai for saving a bleak defensive situation.
"Scramble defence will be crucial for the rest of the series," Henry tells them. He reminds them to fill in defensive holes from the inside and praises Peter Saili and James Parsons for that work.
"Next we have the Bulls. Steyn will play in the pocket so we have to get off the line and get at him. We are going well but 93 per cent on the tackle and seven on the hit register would be great. No team has ever done that in the third round of the Super rugby and that would be a world record."
Five tries on attack, says Kirwan, is great but there are issues. Turnover ball is wasted. If we talk about something before the game, let's do it rather than revert to type, he says. A botched attacking lineout is unacceptable.
"We have to nail them, cut their throat and we let them off the hook. It was an opportunity lost wasn't it boys? If I am asking too much," he says glaring at the players, "I can always f***ing go elsewhere if you want.
"Next game is the Bulls and we have to run them round, we play to their strengths and they will turn us over.
"Don't listen to your own f***ing bullshit. We all need to get better, a lot better. We face big angry men this week who will try and strangle you and we need to be up for it. Then we can have a week off to enjoy it.
"Mentally we want you all to be harder on yourselves than you have ever been because when you win, you tend to get a little lazy, mentally.
"We are good enough to win against the Bulls but we are not good enough if we don't say to each other and ourselves that we will take responsibility to be a great footballer. This is where it gets hard.
"Selection now for the Bulls. I am going to make some changes to reward others who have worked hard.
"You guys are playing well but great sides have internal competition and everyone has to stay on their football game.
"You new blokes have a huge responsibility to keep the standards we have set at the start."
Blues lose 28-21 to the Bulls going into their bye round
When they resume, Williams says preparation for that game was "skin deep not bone deep". For the Waratahs they have to improve their preparation, know the game plan, adjust in case of rough weather and display a mongrel attitude at the breakdown.
Henry chimes in. "We need to have this game won before we leave Auckland. You have to gather all the bits we have done this week, put yourself in a cocoon and go out there and do the business.
"I noticed in the first two or three weeks you were really coachable but then you were not focused enough against the Bulls. You looked like you wanted to get through your work quickly and go, there was no extra work or questions.
"And we did not coach well enough either.
"There is no point switching on over in Sydney. This is our first trip offshore, the Waratahs are in the shit, it's about whether we have the guts, have we got the backbone to prove to people we can do the business.
"The next four games are going to be the measuring stick, if we are knocking on the door we are going to be hard to handle."
Kirwan tells his men every day should be about hard work. He wants each player to ask daily, "Did I do what it took, am I ready, am I getting in order?"
Then he forgets to name the team: "Sorry boys, got a bit excited."
After the 16-23 loss to the Chiefs
It's three defeats in a row but Kirwan is restrained. He admires the attitude his men gave against the Chiefs. They performed better and will do well against their next opponent, the Highlanders, if they repeat that intensity.
"We learned a lot from the Chiefs. We want a winning culture like them and we are not there yet, we need to be brutally honest with each other, we need to be more aware of what's on as a team and individuals.
"We just played the best defensive side in the country [Chiefs] so if we nail our attack this week the Highlanders will not stay with us.
"Loose forwards are the Highlanders' weakness, they won't get off the scrum in time, you could see that with the move the Reds and [Will] Genia pulled.
"It was too hard for them to stop.
"Their midfield gets tight and offer us options out wide. Ma'a jumps out of the line a lot, we want to outrun them because they have tired legs."
Williams wants much more chat on defence, he wants to hear from his inside shoulder, he wants more encouragement, more talk in the same way lineouts need to work. He thinks they have been a little passive and more talking will take the Blues from a team that is close, to being a team that is good.
"We had that in the first two games and we need to reclaim it."
After the 29-18 win against the Highlanders looking at the next match with the Hurricanes
Versatile front-rower Tom McCartney addresses the team about the balance of expression and wonders if they are guilty of throwing the ball around for the sake of it rather than with better intent. He asks for some feedback on that before Henry chips in to signal how excited he gets when Halai scores in the corner.
The All Blacks' mental skills coach Gilbert Enoka has been meeting the leaders and then speaks to the rest of the squad about his recipes to create winning work. If players know their roles, follow the plans and help their mates, success will follow, he tells them.
Man of the match awards are only presented after a win and new dad Ranger takes that. A chant goes up for him to speak and as he receives his honour, he quips, "Just keep running off me boys," and sits down.
Halfway through the series the Blues have four wins against the Hurricanes (twice), Crusaders and Highlanders and losses to the Bulls, Waratahs, Chiefs and Reds. They are in fifth position.
The Blues' first half
Feb 23: beat Hurricanes 34-20 (a)
March 1: beat Crusaders 34-15 (h)
March 10: lost to Bulls 21-28 (h)
Bye
March 24: lost to Waratahs 27-30 (a)
March 30: lost to Chiefs 16-23 (a)
April 5: beat Highlanders 29-18 (h)
April 13: beat Hurricanes 28-6 (h)
Bye
April 26: lost to Reds 11-12(a)
Tomorrow: We sit in on the second half of the Blues' season as they search and fall short of a playoff position.