Cameron McMillan looks at key moves Fantasy Rugby owners should make heading into the final round of the regular season, bringing some Aussies back into the fold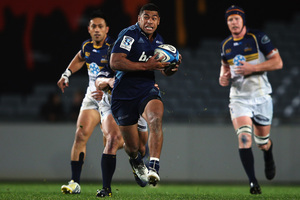 Transfer dramas
With one week left in the season for nine of the teams it leaves one last chance to get something out of their top performers. The good news for Fantasy owners is that the six playoff teams are locked in. The bad news is that the two teams that will have the bye, and won't provide any use next weekend, are still up in the air. So if you want to save some transfers you'll have to take a punt or two.
The Aussies are back!
Welcome back the Brumbies and Reds, and to a lesser extent the Waratahs, Rebels and Force. Fantasy owners (the wise ones at least) would have dropped all Australian franchise players in the last few weeks so now's the time to pick a few back up again. To be honest, they were hardly missed, with Australian players rarely featuring in the top 10 scorers across the six Fantasy positions. There are a few players from across the ditch that should be considered, this week at least:
Brumbies five-eighth Christian Leali'ifano
(231 points, 14 games) $8.45m
Just behind Morne Steyn and Dan Carter in terms of best No10s in the competition and a cheaper option by more than $1m.
Has been consistent throughout the season and will most likely feature next week as well, while Steyn and the Bulls will be sitting out the first round of the playoffs.
Rebels lock Hugh Pyle
(180 points, 14 games) $3.88m
Remains the second best lock in Fantasy rugby despite scoring single digits, and one negative score, on seven occasions.
But when he's hot, he's hot, having topped 25+ four times, and the Rebels get a good chance to finish the season on a high when they face the Highlanders in Melbourne tonight.
Reds prop James Slipper
(168 points, 15 games) $4.5m
One of the most expensive props around, but if you are saving money in other places, like back rowers, then you should look at Slipper. He's the fourth top scoring prop and will get another game at least with the Reds locked in for the playoffs.
Rebels prop Ged Robinson
(173 points) $3.52m
Is a cheaper option just for this week.
Last chance saloon
A number of players have performed well this season despite their teams failing to make the playoffs. This week is the last chance to cash in on strong seasons. If you do pick them up remember to drop them next week.
Wimpie van Der Walt
(262 points, 15 games) $4.49m
The Southern Kings back rower has had a fantastic Fantasy season despite the fact the Kings sit bottom of the table. He's had double-digit tackles in every outing.
Elliot Dixon
(102 points, 11 games) $4.42m
Dixon was everywhere during the Highlanders' upset win over the Hurricanes, scoring 37 points.
He made 22 tackles and scored a try to destroy his previous fantasy-best round of 17 points. Dixon has scored 53 points in his last two outings, behind just Dan Carter and ...
Deon Fourie
(168 points, 14 games) $3.58m
The Stormers front rower has scored four tries in three games.
It's a pity his season is over as he is just rounding into form.
Pick him up for one last outing this weekend as the Stormers face the Bulls.
Must haves: Morne Steyn (Bulls) Philip van der Walt (Cheetahs), Peter Labuschagne (Cheetahs).
Time to go: Charles Piutau (Blues), TJ Perenara (Hurricanes), Joe Pietersen (Stormers).