Agar credits brothers with helping his rapid rise to the top and Ashes debut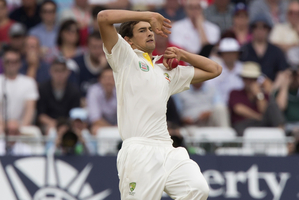 With a tear in his eye and his parents in the crowd Ashton Agar became Australia's surprise 434th test cricketer.
When seemingly no one else on the planet gave the skinny 19-year-old, who was not even part of Australia's Ashes touring squad, a hope of playing the opening test at Trent Bridge in Nottingham his parents and two younger brothers landed in England.
They were in a select group who knew the story of one of the biggest bolters in Ashes history.
Ashton was told on Monday by new coach Darren Lehmann and selector on tour Rod Marsh of his selection, and immediately got on the phone to his mum.
"So we arranged flights on Tuesday morning and were on a flight on Tuesday afternoon," mum Sonia explained of the whirlwind trip.
"[We] got [to Nottingham] at 5.30 this morning. So it was pretty big."
The significance of not only his parents but also brothers William (17) and Wesley (16) being there was not lost on him - Ashton credits the two, who are themselves very well-rated cricketers, as highly as anyone for his rapid rise to the top.
It makes sense when he tells you that none of his coaches gave him much technical advice.
And if their backyard cricket games are anything to base test futures on, he expects to see more of the Agar clan on the world stage in the coming years.
The rules were simple. You bowled at express pace on a six metre wicket, and runs could only be scored in boundaries - the neighbour's yard was a six, while hitting the street gutter across the road was four.
"[They've had a] massive impact," Ashton said after the first day's play. "I put a lot of my cricket development down to playing with them in the front yard at home. They're both good cricketers, at 16 and 17. We've had fierce battles in the front yard.
"Bowling fast on the short pitch, if you couldn't bowl you wouldn't get a bat and if you couldn't bat you wouldn't bat for long.
"We had to try and be a good as we can, and they're great."
Agar, who left his Melbourne home last year to chase first class cricket in Western Australia, is as level-headed as any 19-year-old on the planet.
But even he was overcome by the occasion when presented with his baggy green by fast bowling great Glenn McGrath before the start of play as his parents tearfully watched on.
"To be honest, yeah there was [a tear in the eye]. There definitely was," he added.
"It was a dream come true. It's everything I've wanted from a cricketing point of view."
And while his first ball - a low full toss which was dispatched to the boundary by Jonathan Trott - didn't quite carry the mystique or significance of Shane Warne's first Ashes delivery on English soil and figures of 0-24 are rarely the stuff of legend, there was more than enough to like.
•One of the most frantic days in recent Ashes memory confirmed what we already knew about Australia.
A dynamic bowling attack capable of spearheading a series triumph over England, if only the batting line-up could stand up under pressure.
Fourteen wickets fell on day one at Trent Bridge, the same amount as at Headingley in 2009 and three less than at Lord's in 2005.
On both those occasions Australia went on to win, and although they're well in this first test, Steve Smith (38) and Phil Hughes (7) are still a long way from setting a solid platform for victory.
Australia were 75-4 at stumps, trailing by 140, after England were bowled out for 215 midway through the third session.
Fast bowling leader Peter Siddle stood up to be counted with a superb five-wicket haul under pressure after England won the toss and batted on a flat pitch.
- AAP