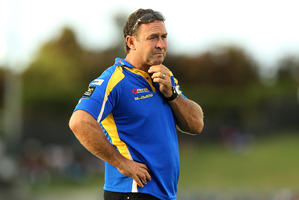 1. Super changes
The UK Super League will be cut from 14 to 12 teams from 2015 and may bring back promotion/relegation. Clubs ruled out the option of cutting the league to 10 teams and asked the RFL executive to investigate two options. The first involves a 12-team Super League running alongside a 12-team Championship which would split after 23 rounds into three groups of eight. The other option is for two divisions of 12 with promotion and relegation. It's hoped the changes will halt falling revenue and crowds.
2. Sticky situation
The label supercoach is an overused cliche - in much the same way as players are routinely called stars, legends or icons - but Ricky Stuart's membership of the club must be under threat. Sticky, as he's known, started the NRL season with a winning record of 52.5 per cent but that is slipping with every week - it's now 50.4 - and not just because of what the Eels are doing this season. Admittedly, he had three good years with the Roosters (2002-04) when they won in 2002 and played in two other grand finals but since then he's won only 38.3 per cent of his matches in charge.
He won one Origin series as NSW coach, in 2005, but went down in the 2011 and 2012 series and was also in charge when Australia lost the 2008 World Cup final. Next season will be a big one for Stuart after he decimated the Eels squad in an effort to rebuild.
3. Taking flight
The Warriors have said they will look into their travel schedule the next time they play in Perth after a difficult journey there last week. This came only days after Matt Elliott said the approach taken by the Breakers basketball side, which they adopted, was a good one. It wasn't the Breakers' fault, nor the Warriors' for that matter, that the plane was delayed by five hours.
4. Game of the week
The Bulldogs' match against Melbourne on Sunday will mark Doggies coach Des Hasler joining his Manly mentor Bob Fulton to create a two-man club of people who have coached and played in 250 first-grade games. It's a significant milestone but securing a win will be more important for Hasler. The Bulldogs will want to take advantage of a Storm side weakened by Origin and injuries to keep in touch with the top eight. Last year's beaten grand finalists seem to take one step forward and another backwards and have failed to gain any real momentum this season. If they can't win this, it's hard to see them going very far this season.
5. Are you being served?
Mal Meninga was looking forward to getting behind the bar this week, and not getting kicked out. The Queensland Origin coach took his squad to an idyllic locale on the Great Barrier Reef curiously named XXXX Island for a few beers as well as some beach golf, fishing and campfire stories. "I can actually go behind a bar, because where can they kick me out to? I'd have to swim back," Meninga told reporters with a grin. "There are sharks there, I guess, and I am a fair meal."
6. Pay as you go
Kiwis players stand to make some nice pocket money from this year's World Cup after the last collective agreement doubled payments - from A$25,000 to A$50,000 for being part of the winning team and A$30,000 - up from A15,000 - for coming third. On top of that, the tab is picked up at virtually every other venue - they probably have to buy their own presents for the WAGs though. The New Zealand women's team now playing their World Cup in England received some good support from Sir Owen Glenn and the Warriors but each member of the Kiwi Ferns still had to meet a $2000 fundraising quota. It's hard to imagine SBW selling raffle tickets or organising a sausage sizzle.