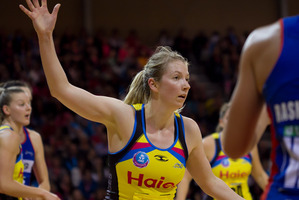 Central Pulse chairman Ian Collier doesn't believe there is cause for concern following the resignation of Netball Central Zone and Pulse chief executive Chris Hooper after only eight months in the role.
Hooper has stepped down, citing personal reasons, from a position that was created last year when the sport went to a zone structure throughout New Zealand.
Hooper's appointment followed Kyla Lange holding the role of general manager of the franchise as they operated without an official chief executive.
Prior to that there were four chief executives - Kristine Mayo, Larry Graham, Bridget Abernethy and Chris McNay - that ran the Pulse in some capacity from the inaugural ANZ Championship in 2008. McNay was also the chief executive of Netball Wellington Region during his tenure.
Lange performed well in her year as general manager from November, 2011 but when the zone structure was implemented she didn't want to take on the new role as chief executive and now works for the Wellington Phoenix as their marketing manager.
Essentially, whoever replaces Hooper will be the seventh person to run the Pulse.
The position is different now to what it was when Mayo, Graham, Abernethy and McNay were in charge. Abernethy, for example, was only part-time when she held the job because she balanced it with running her marketing and public relations firm.
Under the new structure, there are five zones throughout the country, which fall in line with New Zealand's representatives in the transtasman competition and they are responsible for overseeing all aspects of the game from the grassroots level through to the high-performance end.
Being in charge of a zone is no easy task and Collier said it was unfair to say the franchise had an issue with the top job given the new portfolio of requirements under the zone structure.
"I think it's a comparison we need to be careful with making because it's two completely different roles and so whilst the tenure of the CEOs/general manager is an issue, the reason that the previous general manager isn't there is simply because we had a change in structure, they looked at the new role and decided that that wasn't something that they wished to do.''
Collier said the results of the Pulse - they finished fifth in this year's transtasman competition - and the positive feedback from their grassroots constituents proved they were on the right track.
"Our view would be that we've got a very stable board. We've got a very, very capable board and we are making very good progress.''
The Pulse will appoint an interim chief executive next week and will then advertise the role.
Meanwhile, Collier said the franchise remained in a good position to retain Robyn Broughton as their head coach for next year, which would likely ensure a strong majority of their squad would return next season.
"We are very happy with how things are progressing with the recruitment process,'' Collier said.
``We've always said that our priority is to appoint the coach first then the captain. That's the approach we've taken in the past and we don't see any reason to change that.''
Wing attack Liana Leota has also confirmed to Silver Ferns coach Waimarama Taumaunu that she will be available for international selection through until next year's Commonwealth Games in Scotland, which means she will likely suit up for the Pulse in 2014.
- APNZ